Hungarian GP: Mixed qualifying for ROKiT Williams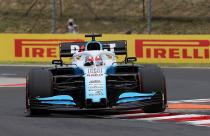 By Andrew Hooper
August 3 2019
Qualifying for the 2019 Hungarain GP would see the ROKiT Williams Team achieve a mixed result with George Russell achieving the best qulaifying result for the team so far in 2019 finishing 16th but for team-mate Robert Kubica he would again finish last in the times. Both drivers would complete three runs on the soft tyre but it would be George who was able to get the best out of the car setting a time that at first saw him close to the top ten only to drop down to 16th. Despite the lack of pace from the second Williams it was still a result that shows the team is making steps forward as they try to take themselves into the midfield fight.
ROKiT Williams Racing Hungarian GP Qualifying
Team Summary:
Both Williams drivers would take to the track very early for their first runs in qualifying for the 2019 Hungarian GP. The first time would be a 1m:18.688 but George would go ahead with a 1m:18.143. The second Williams would be third but both would drop down the order as others went faster. Raikkonen was now quickest with a 1m:17.131 followed by Kvyat and Albon. Giovinazzi was fourth followed by George. Vettel would set a 1m16.581 but Leclerc would go ahead with a 1m:16.337. Both Williams were back out for second runs. Bottas and Hamilton were second and third while Verstappen would go fastest with a 1m:15.817 to be ahead of Leclerc.

Leclerc would have a spin at the final corner making contact with the barrier doing damage to the rear of the car. As the opening period came to a close the order was Verstappen followed by Bottas, Leclerc, Hamilton, Vettel, Norris, Gasly, Grosjean, Raikkonen and Hulkenberg tenth. Neither Williams would make it through to the second period but for the first time George would finish very close to the cut off ending the period in 16th. Unfortunately Robert would be last in the times.

The second period would see the top five Hamilton, Verstappen, Bottas, Leclerc, and Vettel all setting their times on the medium tyre. Hamilton had set a 1m:15.548. Gasly in 7th was also on the medium while Norris in sixth was on the soft. Eighth was Grosjean was also on the soft followed by Hulkenberg and Sainz. With their second runs the top three Hamilton, Verstappen, and Bottas would use the time to practice runs on the soft tyre. The top ten would end up being Hamilton, Verstappen, Bottas, Leclerc, Vettel, Norris, Sainz, Grosjean, Gasly and Raikkonen tenth.

The first runs in the final period of qualifying would see Verstappen set a 1m:14.958 to be quickest from Bottas, Hamilton, Vettel, Leclerc, Gasly, Norris, Sainz, Raikkonen and Grosjean in tenth. The second runs would see Verstappen retain his pole position with an improved lap of 1m:14.572. Second would be Bottas, Hamilton, Leclerc, Vettel, Gasly, Norris, Sainz, Grosjean and Raikkonen tenth. For the ROKiT Williams Team they would finish in 16th and 20th. It was sch a great result to see George so close to making it into the second period but still disappointing to see Robert so far off the pace. Staring from the back of the grid is going to make Sunday's race a difficult one but if both drivers can get good starts you never know what the results may be.
Robert Kubica:
Robert would follow his team-mate out also on the soft tyre. Robert would set a 1m:18.843 to be third but some 0.7 behind his team-mate. Robert would also pit after a two lap run. Robert would also return on soft tyres. Robert would improve with a 1m:18.420 but remained last. he would pit after his run. Robert would also return for a third run. Robert would finish with a 1m:18.334 to be 1.2 seconds behind his team-mate and out of qualifying.

George Russell:
George would be first out in the qualifying session for Williams running on the soft tyre. George would set a 1m:18.143 to be quickest. George would pit after just two laps. George would return for a second run again on soft tyres. George would set a 1m:17.460 to move up to 11th. He would drop to 14th. With three minutes remaining George was back out currently 15th. He would finish the session in 16th and out of qualifying but the gap to the cars in front was so very close. In post session interviews George would say: "Unbelievable almost lost for words ... we have really turned a page in understanding the tyres ... the car came alive. So much work behind the scenes ... long process ... first true test ... we go into summer break pretty pleased ... much more to come for later in the year."
pqs: qs:
Hungarian GP: Mixed qualifying for ROKiT Williams
Posted by: Williams F1 (IP Logged)
Date: 03/08/2019 14:38
What do you think? You can have your say by posting below.
If you do not already have an account
Click here to Register
.
Sorry, only registered users may post in this forum.