German GP: Qualifying produces little for ROKiT Williams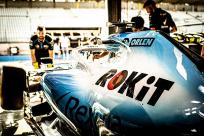 By Andrew Hooper
July 27 2019
Qualifying for the 2019 German GP would again see the ROKiT Williams team suffer the disappointment of seeing both their cars again slowest. Despite the upgrades that the etam had brought to the weekend both drivers would be a similar margin behind the next closet cars. George Russell would finish ahead of team-mate Robert Kubica but at least the gap between the pair was a lot close rthan it had been in the past. Sunday's race is aagain going to be a difficult time for the team as they continue to work on the development of the FW42.
ROKiT Williams Racing German GP Qualifying
Team Summary:
The opening eighteen minute period would see both Williams out first with George going quickest with Robert behind but Stroll would move ahead with a 1m:13.393 to be a massive margin ahead of the Williams. Sainz would go quickest with a 1m:13.221 with Kvyat now second. But Raikkonen would go quickest with a 1m:13.066 but Leclerc would go quickest with a 1m:12.229 to be ahead of Verstappen and Raikkonen. Ricciardo was now fourth followed by Grosjean and Magnussen. Sainz was seventh followed by Stroll, Kvyat, and Hulkenberg in tenth. Vettel would be forced to pit with an issue and would not be able to return failing to set a time.

Hamilton was able to improve to third leading Raikkonen and Bottas. But for Vettel he would be starting the race from last. Sixth was Ricciardo followed by Grosjean, Magnussen, Sainz and Stroll now tenth. The Williams drivers were slowest with times only in the high 1m:14s. Magnussen would improve to be sixth and Giovinazzi would end up tenth. With the end of the period Leclerc would remain fastest from Verstappen, Hamilton, Gasly, Raikkonen, Bottas, Magnussen, Ricciardo, Grosjean, and Giovinazzi tenth.

The first runs in the second period would see Hamilton quickest with a 1m:12.149 running on the medium tyre. Leclerc was second also on the medium tyre followed by Bottas, Sainz, and Perez fifth. Gasly was able to improve to be third but set on the soft tyre. Bottas was fourth on the medium tyre. Sainz was fifth followed by Grosjean, Magnussen, Raikkonen, Giovinazzi, and Perez tenth. This group were all on the soft tyre. Verstappen was able to move into fourth with the top ten ending up with Hamilton fastest from Leclerc, Gasly, Bottas, Verstappen, Raikkonen, Sainz, Hulkenberg, Grosjean and Perez.

The first runs in the final period would see Hamilton fastest with a 1m:11.767 from Verstappen, Bottas, Gasly, Grosjean and Sainz. Leclerc would also have an issue that would see him out of the final period seeing him not been able to set a time. Perez was able to move into sixth ahead of Sainz. Raikkonen and Hulkenberg had not set a time. Hamilton would remain fastest after the second run from Verstappen, Bottas, Gasly, Raikkonen, Grosjean, Sainz, Perez, Hulkenberg and Leclerc tenth without setting a time. Again the Williams team would suffer the disappointment of having both drivers not so much start from at the rear of the grid but the margins to the cars in front did not show any real improvement.
Robert Kubica:
With the start of the first period of qualifying Robert would be out first running on the soft tyre. Robert would set a 1m:16.125 but would see his team-mate go ahead. Robert would not improve but would have his time deleted due to exceeding track limits and would pit. After a quick stop Robert would return and was able to set a 1m:14.915 to move ahead of George. Robert would come out for a final run as the period drew to a close. Robert would improve with a 1m:14.839 but remained at the bottom of the times. Robert would comment after his session by saying: "What we gained thanks to the updates, we gave up due to [reliability concerns]. We can either go fast, or get to the end of the race .... Not an ideal session. A lot of traffic at first, then a lot of understeer in the final corners."

George Russell:
George would follow team-mate Robert out running on the soft tyre. George would say that "the front end was not biting at all." Despite this George would set a 1nm:15.682 to go quickest if only briefly. He would improve with a 1m:15.032 but this was still a big margin off the cars in front. He would pit after a five lap run and would change to a new set of soft's and return for another run. George would set a 1m:14.977 to drop behind Robert. George was also back out on a third set of soft tyres. He would set a 1m:14.721 to reverse the positions with his team-mate.
pqs: qs:
German GP: Qualifying produces little for ROKiT Williams
Posted by: Williams F1 (IP Logged)
Date: 27/07/2019 14:57
What do you think? You can have your say by posting below.
If you do not already have an account
Click here to Register
.
Sorry, only registered users may post in this forum.