French GP: Qualifying sees little change for ROKiT Williams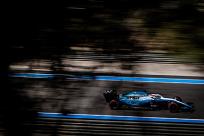 By Andrew Hooper
June 23 2019
Qualifying for the 2019 French GP would see little change for the ROKiT Williams Team with both drivers finishing at the bottom of the times. George Russell would again finish ahead of team-mate Robert Kubica in a session that showed no real improvement. The only positive notes were that George with only one session of practice due to engine issues would set a pace that he came away happy with and secondly Robert had also been able to close the gap to his team-mate. Sunday's race with various penalties will see Robert start from 18th and George 20th. Again it is going to be a difficult race as the team continbues to work towards a solution to their performance issues.
ROKiT Williams Racing French GP Qualifying
Team Summary:
With the start of qualifying drivers would come out all on the soft tyre including both Williams drivers. Drivers were taking it very carefully on their out laps with a very hot track temperature. Perez would set a 1m:34.130 but quickly he was passed as Norris set a 1m:32.708 but Albon would go ahead with a 1m:32.573. Then it was Sainz's turn with a 1m:32.010. He would be followed by Giovinazzi and Albon. The track would see every driver out running as Vettel went fastest with a 1m:31.846 only to see Leclerc go quicker with a 1m:31.441. But Bottas would go quickest with a 1m:31.378 to lead Leclerc with Hamilton in third. Vettel was fourth followed by Sainz, Gasly, Raikkonen, Giovinazzi, Norris and Hulkenberg tenth.

Further runs would see Bottas improve with a 1m:30.550 with Hamilton only second. Leclerc was third followed by Vettel, Sainz and Ricciardo. On their next runs Hulkenberg and Ricciardo would move up to be fourth and fifth followed by Perez, Raikkonen, Norris, Sainz, and Vettel. Despite some encouraging moments both Williams drivers would again not make the cut and be out of qualifying.

The second period of qualifying would see a mixture of tyres been used with both Mercedes and Ferrari's out on the medium tyre. Sainz was also out on the medium tyre while it would be Hamilton who would go quickest with a 1m:29.520 only to see Bottas move ahead with a 1m:29.437. Verstappen was now third followed by Sainz but it would change as Leclerc went third followed by Verstappen, Vettel, Sainz, Hulkenberg, Gasly, Albon, and Perez tenth. the top seven had all set their times on the medium tyre. Ricciardo on the medium tyre he would move into seventh followed by Norris and Hulkenberg. Having set times on the medium tyre the Mercedes drivers would change to the soft tyre to get ready for the final period. Both Alfa Romeos would go into the top ten with Giovinazzi ninth and but Albon would go tenth. But Gasly would return to tenth with the order Bottas, Vettel, Hamilton, Leclerc, Norris, Verstappen, Sainz, Ricciardo, Giovinazzi, and Gasly tenth.
The final period of qualifying would see Hamilton secure pole from his team-mate Bottas with the Ferrari of Leclerc third. Fourth would be Verstappen followed by an improving McLaren pair of Norris and Sainz. The one big surprise of qualifying was to see Vettel finish in seventh followed by Ricciardo, Gasly and Giovinazzi. For the ROKiT Williams Team little had changed in terms of the results in this session and the gaps remain as big as ever to the cars in front. For Sunday's race George will start from the rear of the grid due to his penalties and Robert will start from eighteenth as a result of other driver penalties. Sunday's race is again going to be a difficult one for both Williams drivers.
Robert Kubica:
Robert would follow his team-mate out also on the soft tyre. Robert would set a first lap time of 1m:35.084 to be slowest. Robert would improve with a 1m:34.768 but remained slowest. He would pit after a four lap run. Robert would join his team-mate out for a second run again on the soft tyres. he would improve with a 1m:33.205 to again be slowest and out of qualifying.

George Russell:
For George the lead-up to qualifying would see him forced to change various energy store related components such as the battery. This would see him receive a fifteen place grid penalty so it would be surprising to see him do any serious qualifying runs. But with the start of qualifying George would come out for a run on new soft tyres. He would not set a time but would finally set a 1m:33.581 to be 18th and only 0.6 behind Magnussen. George would pit after just two laps. But surprisingly George would return for a second run. A 1m:32.789 from George to see him move ahead of both Racing Point cars. But they would respond seeing George's time still one second behind the car in front that of Stroll. Like his team-mate George was out of qualifying.
pqs: qs:
French GP: Qualifying sees little change for ROKiT Williams
Posted by: Williams F1 (IP Logged)
Date: 23/06/2019 04:35
What do you think? You can have your say by posting below.
If you do not already have an account
Click here to Register
.
Sorry, only registered users may post in this forum.