Monaco GP: FP3 improvement from FP2 for ROKiT Williams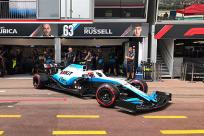 By Andrew Hooper
May 25 2019
The final practuice session for the 2091 Monaco GP would see the ROKiT Williams team drivers finish slowest but this time it would be Robert Kubica who would finish ahead of team-mate George Russell. Both drivers would spend the whole session running on the soft tyre. George would complete a longer higher fuel run early in the session prior to both drivers completing their qualifying simulations. It was encouraging to see Rpobert only a few tenths behind the Racing Point cars that were in front of him in the times.
ROKiT Williams Monaco GP Saturday Practice
Team Summary:
The Williams team would send their driver out early to set the early quickest time but the Toro Rosso cars would go quicker but Ricciardo would set a 1m:14.628 to be ahead of Kvyat and Albon. Albon would go quickest with a 1m:13.775 to be 0.8 ahead of Ricciardo. Bottas would easily move ahead with a 1m:12.764 from Vettel and Leclerc. Bottas would improve with a 1m:12.238 while the Williams drivers were currently 13th and 15th with fifteen minutes completed. Hamilton was now second ahead of Vettel and Leclerc. Vettel would have a front right lockup going into Ste Devote crashing into the barrier ending his session. With thirty seven minutes remaining the Williams drivers were last with Robert leading George.

Verstappen was now up in third followed by Gasly and Vettel now fifth. Albon was sixth followed by Raikkonen, Leclerc, Magnussen and Giovinazzi in tenth. At the front Bottas was still fastest with a time of 1m:11.835 as Leclerc moved into fourth. At the front Leclerc would go quickest with a 1m:11.265 to move ahead of Bottas. Hamilton was still third as the final ten minutes of the session commenced. Verstappen was fourth followed by Gasly, Hulkenberg, Ricciardo, Grosjean, Vettel and Raikkonen. Both Williams drivers had run on new soft tyres having improved their times but remained slowest. Stroll would go off at Ste Devote but was able to continue. Kvyat would move up to sixth but Giovinazzi would take this spot from Kvyat, Raikkonen, Albon and Magnussen tenth. The result for the Williams team was pretty much expected but they seemed to be closer to the Racing Point cars in front of them, especially for Robert.
Robert Kubica:
After his team-mate had completed a few lap Robert would come out also the soft tyre. His first time was a 1m:21.714 as he got hs tyres up to temperature. His next lap was a 1m:16.454 to be ahead of his team-mate. A further improvement with a 1m:15.682 would see Robert remain ahead of his team-mate. Robert had pitted switching to new soft tyres and would set a 1m:14.923 and he would also pit after a quick four lap run. With twenty five minutes remaining Robert would return on a new set of soft tyres. He would set a 1m:14.527 to find a few tenths over his previous time. But Robert would set a 1m:14.086 to move ahead of Stroll. But he would drop behind seeing Robert finish 19th.
George Russell:
George would be first out in the final practice running on the soft tyre. He would set the first time of the session with a 1m:22.611, a slow lap. But he would improve with a 1m:17.926. A 1m:17.039 would see him a considerable margin behind the quickest time. A further improvement with a 1m:16.857 from George as he continued his run on the soft tyre. A 1m:16.452 from George as he showed that he was on a long run on the soft tyre running high fuel. George would pit after a fourteen lap run. George would follow his team-mate out also on new soft tyres. A 1m:14.598 from George but he was still behind his team-mate. George would improve with a 1m:14.305 but Robert was still ahead. With the end of the session George would remain slowest.
| Pos | Driver | Car | Time | Gap | Laps |
| --- | --- | --- | --- | --- | --- |
| 1 | Charles Leclerc | Ferrari | 1m11.265s | - | 26 |
| 2 | Valtteri Bottas | Mercedes | 1m11.318s | 0.053s | 27 |
| 3 | Lewis Hamilton | Mercedes | 1m11.478s | 0.213s | 27 |
| 4 | Max Verstappen | Red Bull-Honda | 1m11.539s | 0.274s | 24 |
| 5 | Pierre Gasly | Red Bull-Honda | 1m11.738s | 0.473s | 27 |
| 6 | Antonio Giovinazzi | Alfa Romeo-Ferrari | 1m12.170s | 0.905s | 23 |
| 7 | Daniil Kvyat | Toro Rosso-Honda | 1m12.194s | 0.929s | 27 |
| 8 | Kevin Magnussen | Haas-Ferrari | 1m12.270s | 1.005s | 25 |
| 9 | Kimi Raikkonen | Alfa Romeo-Ferrari | 1m12.308s | 1.043s | 27 |
| 10 | Alexander Albon | Toro Rosso-Honda | 1m12.338s | 1.073s | 32 |
| 11 | Nico Hulkenberg | Renault | 1m12.489s | 1.224s | 26 |
| 12 | Daniel Ricciardo | Renault | 1m12.519s | 1.254s | 26 |
| 13 | Romain Grosjean | Haas-Ferrari | 1m12.566s | 1.301s | 27 |
| 14 | Sebastian Vettel | Ferrari | 1m12.583s | 1.318s | 7 |
| 15 | Carlos Sainz Jr. | McLaren-Renault | 1m12.862s | 1.597s | 29 |
| 16 | Lando Norris | McLaren-Renault | 1m12.914s | 1.649s | 26 |
| 17 | Sergio Perez | Racing Point-Mercedes | 1m13.232s | 1.967s | 23 |
| 18 | Lance Stroll | Racing Point-Mercedes | 1m13.622s | 2.357s | 21 |
| 19 | Robert Kubica | Williams-Mercedes | 1m14.086s | 2.821s | 27 |
| 20 | George Russell | Williams-Mercedes | 1m14.305s | 3.040s | 27 |
pqs: qs: