Eifel GP: Another difficult qualifying for Williams Racing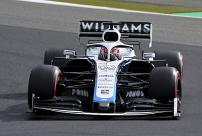 By Andrew Hooper
October 12 2020
Qualifying for the 2020 Eifel GP would be another difiicult and frustrating session for the Williams Racing Team. The session would see George Russell and Nicholas Latifi finish in 17th and 18th. The session was made even more frustrating by the fact that the FW43 had the pace to make it in Q2 but neither driver was able to put together a lap that wpuld achieve the required times.
Williams Racing Eifel GP Qualifying
Team Summary:
After a difficult Saturday practice with both Williams drivers having spins now it was qualifying. Nico Hulkenberg would take over from Stroll who was ill. First out would be the Haas cars followed by Hulkenberg. More drivers were out including both Williams drivers. First time would be a 1m:28.970 from Grosjean. Gasly would move ahead with a 1m:28.295 but the times weer coming quickly as Kvyat went fastest with a 1m:28.147. Hamilton was now quickest with a 1m:26.703 followed by Bottas and Norris. Leclerc was now second but Verstappen would go quickest with a 1m:26.319 followed by Bottas, Hamilton, Leclerc, Albon, Ricciardo, Norris, Gasly, Vettel and Sainz tenth.

After the final set of runs Verstappen would remain quickest from Bottas, Hamilton, Norris, Ricciardo, Lecler4c, Gasly, Ocon, Vettel, and Perez in tenth. The Williams drivers would finish in 17th and 18th and out of qualifying. The second period would see so many drivers on the medium with Hamilton going quickest on this time but Verstappen would set the quickest time but on the soft with a 1m:25.720. But the Mercedes would switch to the soft tyre and we would see Bottas second from Hamilton, Albon, Norris, Ocon, Sainz, Perez, Leclerc and Ricciardo. But with more soft tyre runs Hamilton would go quickest with a 1m:25.390. The end of the second period would see Hamilton remain fastest from Verstappen, Bottas, Ricciardo, Leclerc, Albon, Norris, Perez, Sainz and Ocon tenth.

The final period of qualifying would see Verstappen quickest with a 1m:25.744 after the first runs. he was followed by Bottas, Hamilton, Albon, Leclerc, Ocon, Norris, Sainz, Ricciardo, with Perez yet to set a time. But on the second runs the result would be Bottas taking pole from Hamilton, Verstappen, Leclerc, Albon, Ricciardo, Ocon, Norris, Perez and Sainz in tenth. So the Williams Racing drivers will start the race from 17th ans 18th but with the choice of tyres to start the race.
George Russell:
George would first out in the opening period running on the medium tyre. He would switch the soft and would set a 1m:28.078 to be 11th dropping to 13th. George would pit currently 14th as he pitted. He would drop to 15th as he returned fro a final soft tyre run. A 1m:27.564 would see him 14th but he would drop to 17th. With the end of the period he was out of qualifying. George would say to his engineer "Not good enough .. Not good enough".
Nicholas Latifi:
Nicholas would follow George out but on the soft tyre. He would set a1m:28.502 to be seventh. He would drop to eighth. This would become 15th as others went quicker. He would pit returning on a new set of soft tyres currently 18th. Nicholas was able to improve with a 1m:27.947 to be 13th pushing George down one place. After his flying lap Nicholas would pit. With two minutes remaining Nicholas would return for a final soft tyre run. His last lap was a 1m:27.812 to be 18th. So this was the end of his qualifying.
pqs: qs: