Italian GP: Frustrating qualifying for Williams Racing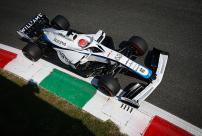 By Andrew Hooper
September 6 2020
Qualifying for the 2020 Italian GP would be a frustrating session for the Williams Racing Team with both George Russell and Nicholas Latifi occupying the last row of the grid with George 19th and Nicholas 20th. Despite seeming to make steps forward in FP3 both driver still lacked the necessary pace to realistically get into Q2. Even so the chaos of the final run in Q1 did not make the situation any easier with George been stuck in a group of cars all looking to place their cars to benefit from a tow such that he would suffer in his ability to complete a better lap time. Definitly not the session that the team wanted as they continue to turn their performances around.
Williams Racing Italian GP Qualifying
Team Summary:
Car would start to come out for qualifying all on the soft tyre including both Williams drivers. Magnussen was running first joined by Grosjean, the Alfa Romeo's. Magnussen would set a 1m:21.618 only to see Grosjean quickest with a 1m:21.402 with the Williams fourth and eighth. Leclerc would go quickest but his time would be deleted leaving Vettel quickest with a 1m::21.151. The track was now quite busy as Hamilton went quickest with a m1:19.539 followed by Bottas with both Mercedes on the medium tyre. Perez was third followed by Sainz and Norris. Both Williams were 13th and 16th and had pitted. Verstappen was now sixth as Gasly had his time deleted. Ricciardo was now seventh followed but Gasly would move into this spot only to be eighth as Stroll went quicker.

The Williams drivers had now dropped to 19th and 20th with just over five minutes remaining. The track was now empty as everyone pitted getting ready for a second run. But quickly the track would fill as drivers came out for their final runs and after a whole lot of mucking around by drivers including Ocon, Raikkonen, Leclerc, Russell, Giovinazzi and Albon who were all holding each other up starting their final runs and this would see George fail to improve and would be knocked out. Nicholas would complete his lap but also failed to improve. But in reality based on their pace over the practice sessions it was most likely the case that neither Williams drivers would make it past Q2..
George Russell:
George would take to the track first for Williams for his first run in qualifying using the soft tyre. George would set a 1m:21.587 to be second dropping to third. He would drop quickly down the times and would pit after a five lap run. He was currently 13th but would drop to 19th.As the session drew to a close George would return for his final run. But in what was sort of expected there was a group of cars all messing around that would hamper his final run seeing him fail to improve. George on his radio did not sound happy with the team as he felt that they should have capitalised from this situation not become part of the situation. (His language was a lot more colourful)
Speaking after the session, George made it clear that it was an opportunity missed for Williams to advance to Q2. George said: "We are the slowest team on the grid, we've had some incredible Saturdays, but we need an extreme circumstance to give us that opportunity. Today was one of those ridiculous circumstances, and we were absolutely in the thick of it. Ridiculous.

"It all starts from where you're sent out of the pit lane. I'm not pointing fingers at anybody, but everybody is in the same boat. I don't know why every single team sends their cars at the exact same time, because you know exactly what is going to happen." .
Nicholas Latifi:
Nicholas would follow George out for his first qualifying run also on the soft tyre. Nicholas would set a 1m:22.114 to be eighth. Several drivers in front would have their times deleted seeing Nicholas now sixth. But he would quickly drop to 16th as he pitted. He would dropt o 20th and last. He would return with two minutes remaining. Nicholas's final run would not see him improve and he would finish 20th and last.
pqs: qs:
Italian GP: Frustrating qualifying for Williams Racing
Posted by: Williams F1 (IP Logged)
Date: 06/09/2020 05:53
What do you think? You can have your say by posting below.
If you do not already have an account
Click here to Register
.
Sorry, only registered users may post in this forum.