Belgian GP: Race sees further frustrations for Williams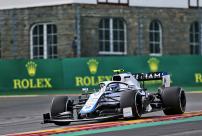 By Andrew Hooper
August 31 2020
The 2020 Belgian GP would see the Williams Racing Team have to suffer further frustrations as they continue to strive to achieve those better race performances. The race would see George Russell having to see his race come to an abrupt end when while avoiding a crashing Giovinazzi the front wheel of the Alfa Romeo would strioke the right front suspension of the Williams seeing George crash heavily into the barrier ending his race. For team-mate Nichola Latifi his race would see him run at the rear of the field for most of the race finishing 16th in what he would later describe as race dominated by a car that did not perform well right from the opening laps. Certainly not the result that Williams Racing is working so hard to achieve.
Williams Racing Belgian Grand Prix Race Review
Qualifying for the forty four lap 2020 Belgian Grand Prix would see the Williams Racing Team secure the 15th and 19th grid positions with George Russell leading team-mate Nicholas Latifi. On pole would be Hamilton followed by Bottas, Verstappen, Ricciardo, Albon, Ocon Sainz, Perez, Stroll, and Norris in tenth. But it was bad news for Sainz as he would not start the race with an power unit failure in his engine that caused issues with his exhaust seeing his place been left vacant on the grid. Both Mercedes would start the race on the medium tyre joined by Verstappen out of the top ten drivers. The rest would all start on the soft tyre while outside the top ten Gasly was on the hard, Leclerc the soft but the rest including both Williams cars were all on the medium.
The grid would complete their parade lap and with the race start it would be Hamilton leading from Bottas and Verstappen. The Williams drivers were 14th and 16th but they would drop places currently 16th and 19th. George would drop to 17th as he was passed by Raikkonen. Nicholas was now 19th as Hamilton continued to lead Bottas by 1.3s after three laps. Ricciardo was fourth followed by Ocon, Albon, Stroll, Gasly, Perez and Leclerc now up to tenth. On the opening lap George did run wide at the right handed after the main straight which cost him a few places. George would move up to 16th passing Magnussen. Nicholas was still in 19th and outside DRS distance. George was now closing in onto the Alfa's which were running 14th and 15th. Nicholas was struggling losing a second to Magnussen ahead of him.
But the fortunes of George would go all wrong as he was involved in an accident of Giovinazzi as a wheel off the Alfa Romeo would hit George's right front wheel causing major damage seeing George lose control of his car and go into the barrier. This would see a Safety Car come out and a flurry of pit stops. With all the stops completed the order was Hamilton from Bottas, Verstappen, Gasly, Perez, Ricciardo, Albon, Ocon, Stroll, and Norris tenth. Perez was still on the soft tyre as he did not pit. Nicholas was currently running in 17th with the whole field except for Perez and Albon, who was on the medium, were now on the hard tyre.
Nicholas was now running 16th after Perez pitted. But Perez would close the gap to pass Nicholas on lap twenty five. Nicholas would tell his engineer that his rear left was offering no support. Given the number of right hand turns this is a big issue. As Leclerc pitted Nicholas would again be 16th. With Gasly pitting Nicholas would improve to 15th if only temporarily. Gasly would get past seeing Nicholas again 16th. Nicholas would pit on lap thirty two switching to the medium tyre. He would return in 17th and last. Gasly would continue to move forward passing Raikkonen for 11th. Perez was also moving forward on an alternate strategy like Gasly. He would pass Kvyat for ninth while Norris was now seventh ahead of Stroll and was closing in onto Ocon. Gasly was now up to ninth and then eighth on the penultimate lap. Ocon wou7ld also pass Albon for fifth making it a Renault fourth and fifth with Ricciardo ahead of his team-mate. Ricciardo would also secure the fastest lap of the race.

So the finishing order would be Hamilton, Bottas, Verstappen, Ricciardo, Ocon, Albon, Norris, Gasly, Stroll and Perez in tenth. For Williams Racing Nicholas would come home in 16th while team-mate George would see a DNF. Not the result the team was no doubt hoping for prior to the start of the race.
pqs: qs:
Belgian GP: Race sees further frustrations for Williams
Posted by: Williams F1 (IP Logged)
Date: 31/08/2020 11:09
What do you think? You can have your say by posting below.
If you do not already have an account
Click here to Register
.
Sorry, only registered users may post in this forum.