Singapore GP: Difficult race for ROKiT Williams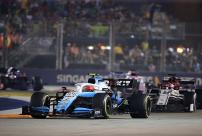 By Andrew Hooper
September 23 2019
The ROKiT WillaismTeam would have to contend with what would be a difficult race with issues from a crashed car through to several Safety Car periods all adding to the difficult nature. At the finish only Robert Kubica would be classified finishing 16th but for team-mate George Russell his race would end in the wall after having another driver make contact with his car oushing it into the barrier. This would be his first retirement of the season. His race was also hampered by front wing damage at the start which would see him pit early.
ROKiT Williams Singapore Grand Prix Race Review
The grid for the sixty one lap 2019 Singapore Grand Prix would see the ROKiT Williams drivers start from eighteenth and nineteenth with George Russell ahead of Robert Kubica. On pole would be Leclerc from Hamilton and Vettel. Fourth was Verstappen followed by Bottas, Albon, Sainz, Hulkenberg, Norris and Giovinazzi in tenth. The top nine would all be starting on the soft tyre while Giovinazzi starting in tenth was on the medium as he had moved up a place as Ricciardo would be starting the race from the rear of the grid. Both Williams drivers were on the medium tyre joined by the cars from twelfth through to twentieth. Gasly was on the hard tyre for the race start.

The grid would complete their formation lap and would line up and the race would start with Leclerc leading from Hamilton and Vettel. Robert would make a great start and would get up to 16th but for George he would suffer front wing damage after been hit by Ricciardo. Hulkenberg would pit joined by Russell. Hulkenberg would switch to the hard joined by George who also had a front wing change. Robert was running in 17th. Sainz had also pitted switching to the hard and going a lap down. There had been contact with Sainz and Hulkenberg. Replays had shown Robert and George making contact at Turn one, but it was just one of those things that can happen at a race start.
At the front Leclerc was leading from Hamilton, Vettel, Verstappen, Bottas, Albon, and Norris seventh all on the soft tyre. Robert was still running in 17th and George 19th but George had made a pit stop. Ricciardo would pass Stroll for thirteenth. Lap ten and the Williams drivers were running in 18th and 19th with Robert leading George. Giovinazzi was in eighth followed by Magnussen and Gasly tenth. Ricciardo was able to pass Kvyat for twelfth. Stroll would also get past the Toro Rosso. Kvyat would pit on lap fourteen having lost pace taking on the hard and returning in 18th. Robert would move up to 17th as a result. Perez would pit on lap fifteen taking on the hard returning in 17th. Robert was now up to 16th as Raikkonen pitted from 13th changing to the hard. He would return in 16th and behind Robert.
Raikkonen would try to pass Robert but Robert was making it hard. He would eventually get past and would also be passed by Perez and Kvyat seeing Robert drop to 18th. Magnussen would pit on lap twenty returning in 14th also taking on the hard tyre. Vettel would pit joined by Verstappen on lap twenty one with the pair taking on the hard tyre. Vettel would come back out in tenth and Verstappen twelfth but behind Hulkenberg. Leclerc would pit on lap twenty two seeing Hamilton leading and Bottas second. Albon and Norris would also pit. Leclerc was back out in eighth while Vettel would be ahead of Leclerc upon his return. The pair were seventh and eighth. Vettel would set a fastest lap on lap twenty two as Robert pitted on lap twenty three taking on the hard tyre. He would return in 19th.
Bottas would pit on lap twenty four and would return behind Vettel, Leclerc, and Verstappen in ninth. Hamilton was leading with Giovinazzi second followed by Gasly, Ricciardo, Stroll and Vettel sixth. Grosjean would pit seeing George up to 17th. Hamilton would pit on lap twenty eight and would return in ninth but would get past Bottas to be eighth. Vettel had past Stroll to be fourth with Leclerc sixth. Vettel would pas Ricciardo for third while Leclerc had past Stroll for fifth but Stroll had yet to pit. Vettel would pass Gasly seeing the Toro Rosso go off the circuit. Vettel would get past Giovinazzi in a fairly easy pass. So the order was Vettel from Giovinazzi, Gasly, Leclerc, Verstappen, Ricciardo, Stroll, Hamilton, Bottas and Albon tenth.
Stroll would pit on lap thirty two dropping down to 16th taking on the hard tyre. Leclerc and Verstappen would both pass Giovinazzi shortly followed by Hamilton. For Williams the pair were running in 17th and 19th. It was all changing in the front with Ricciardo making contact as he tried to pass Giovinazzi seeing him pit as a result with a puncture. Giovinazzi would pit on lap thirty six dropping to 15th. George and Grosjean would move ahead of Ricciardo as he returned in 18th running on the hard tyre. But for George he would have a moment with Grosjean as the Haas tried to pass seeing the Haas make contact with the Williams seeing the car turned and into the wall. This would see the Safety Car deployed.

Several drivers would pit except for the leaders so the order was Vettel, Leclerc, Verstappen, Hamilton, Bottas, Albon, Norris, Magnussen, Raikkonen, and Perez tenth. Robert was running in 17th. The Safety Car would come in on lap forty two and it would be Vettel leading from the restart. Several of the lower drivers had pitted and were on the soft tyre including Kvyat, Giovinazzi and Grosjean. Robert would drop behind Grosjean but Stroll would get a puncture seeing Robert move up to 17th. Stroll would pit taking on the soft tyre now running last. Lap forty five and Perez would retire out on the track. With the Racing Point out on the track the Safety Car would be deployed and Robert would pit from 16th taking on the medium tyre returning in 17th. Stroll would pit again under the safety Car.
The Safety Car would return to the pit lane on lap forty eight. Vettel would be leading from Leclerc and Verstappen. Vettel would open up a small lead over Leclerc. Kvyat would try to pass Raikkonen but the pair would make contact with Raikkonen breaking his front suspension. Raikkonen would retire seeing another Safety Car deployed as Raikkonen's car was in a dangerous position. It was looking like the race would time out with two hours close to been completed. The car was removed and the Safety Car came back in with ten laps remaining. Robert was running in 17th but close behind Stroll. At the front Vettel was leading by around 1s from Leclerc. Lap fifty six and Vettel would set a new fastest lap as Robert would pass Magnussen.

Five laps remaining and Vettel was still leading from Leclerc, Verstappen, Hamilton, Bottas, Albon, Norris, Gasly, Hulkenberg and Giovinazzi tenth. The final laps would count down with Hamilton closing the gap to Verstappen and in DRS range. Robert was running in a lonely 16th as he started his final lap. At the front Vettel would finish lap sixty one and would take victory in Singapore. Leclerc was second from Verstappen, Hamilton, Bottas, Albon, Norris, Gasly, Hulkenberg and Giovinazzi getting the final point. Magnussen had set the fastest lap but was out of the top ten. For Williams it was another difficult race with George retiring and Robert down in 16th. At least Robert was able to race with the cars down the order as a result of the several Safety Cars.
pqs: qs: