Singapore GP: FP3 Great effort from Russell ROKiT Williams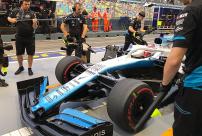 By Andrew Hooper
September 21 2019
The final practice session for the 2019 Singapore GP would see the ROKiT Williams team produce a very necouraging result with George Russell finishing in 15th. He would finish ahead of both Haas drivers and one from Alfa. The result was very similar to those achieved in Hungary. Unfortunately Robert Kubica could only manage 19th so the prospects for his qualifying were not looking as good.
ROKiT Williams Singapore GP Saturday Practice
Team Summary:
The start of the final practice session for the 2019 Singapore GP would see a slow feed of drivers coming out and after the first times were set it would be Leclerc fastest with a 1m:39,364 followed by Vettel, Hamilton, Bottas, Albon, and Giovinazzi. Hamilton would improve to be second with the Mercedes on the medium tyre while the resat of the field were on the soft's. The only drivers yet to come out for even an instralltion lap were Verstappen and George. But we would see both Williams drivers come out running at the same time. Perez would move into fifth followed by Norris. Perez was pushing at would hit the wall at teh second last turn seeing him luckily make it back into the pit lane with right rear suspension damage.

With debris on the track the Virtual Safety Car was deployed. This would pretty much ruin the runs of several drivers including those of Williams. But in order to clear the debris coming from Perez's contact with the wall a Red Flag was shown. Prior to this Kvyat would be forced to pit with an engine issue with smoke coming from the rear of his car. The session would restart with twenty two minutes remaining. The Renault's were first back out and Ricciardo would move up to fourth and Hulkenberg seventh. Bottas would go quickest with a 1m:39.166. Verstappen would jump up to third using the soft tyre. George would move up to twelfth while Leclerc would move ahead of Bottas with a 1m:38.192, with only three cars on the track.

But with ten minutes remaining the track was now very busy and after several quick laps it would be Leclerc from Hamilton, Vettel, Bottas, Albon, Verstappen, Sainz, Norris, Hulkenberg and Ricciardo tenth. The Williams drivers were currently 15th and 19th. With the end of the session the positions for the Williams pair would remain the same but the question was now was there any potential for George to make it out of the first period of qualifying. Unfortunately Robert was 0.798 behind his team-mate.
Robert Kubica:
In the final practice Robert would be first out for Williams running on the soft tyre. He would set a 1m:44.248 but he would pit after a short three lap run. Robert would come out for a second run with thirty five minutes remaining still on the soft tyre. Robert would improve with a 1m:42.884 but with the Red Flag he would be forced to pit. With twelve minutes remaining and Robert would return on a new set of soft tyre. Robert would set a 1m:41.954 to be 18th dropping to 19th.
George Russell:
With thirty five minutes remaining George would take to the track on the soft tyre. He would set a 1m:43.743 on his first timed lap. With the Red Flag George would pit. With the restart George would return on new soft tyres. George would set a 1m:41.156 to move up to 12th. George would continue his run on the soft tyre. He would pit after a six lap run completing a practice pit stop. George would drop to 15th as the session continued. But with five minutes remaining George would return for another run but would pit to complete a pit stop returning to the track.
| Pos | Driver | Car | Gap | Laps |
| --- | --- | --- | --- | --- |
| 1 | Charles Leclerc | Ferrari | 1m38.192s | 15 |
| 2 | Lewis Hamilton | Mercedes | 0.207s | 15 |
| 3 | Sebastian Vettel | Ferrari | 0.619s | 13 |
| 4 | Valtteri Bottas | Mercedes | 0.693s | 16 |
| 5 | Alexander Albon | Red Bull-Honda | 1.066s | 14 |
| 6 | Max Verstappen | Red Bull-Honda | 1.174s | 9 |
| 7 | Carlos Sainz Jr. | McLaren-Renault | 1.315s | 14 |
| 8 | Lando Norris | McLaren-Renault | 1.517s | 13 |
| 9 | Nico Hulkenberg | Renault | 1.926s | 15 |
| 10 | Daniel Ricciardo | Renault | 1.961s | 12 |
| 11 | Lance Stroll | Racing Point-Mercedes | 2.017s | 11 |
| 12 | Pierre Gasly | Toro Rosso-Honda | 2.147s | 15 |
| 13 | Kimi Raikkonen | Alfa Romeo-Ferrari | 2.761s | 16 |
| 14 | Sergio Perez | Racing Point-Mercedes | 2.793s | 4 |
| 15 | George Russell | Williams-Mercedes | 2.964s | 13 |
| 16 | Antonio Giovinazzi | Alfa Romeo-Ferrari | 2.977s | 14 |
| 17 | Kevin Magnussen | Haas-Ferrari | 3.302s | 12 |
| 18 | Romain Grosjean | Haas-Ferrari | 3.350s | 12 |
| 19 | Robert Kubica | Williams-Mercedes | 3.762s | 13 |
| 20 | Daniil Kvyat | Toro Rosso-Honda | - | 3 |
pqs: qs: