Japanese GP: Qualifying sees Massa 8th for Williams Martini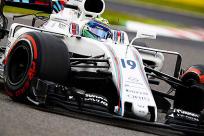 By Andrew Hooper
October 7 2017
Qualifying for the 2017 Japanese GP would see Williams Martini driver Felipe Massa finish in an encouraging 9th but he will start from 8th as other drivers received penalties. This is an improvement from the Brazilian over his last few Grand Prix. But for team-mate Lance Stroll his session would be a real struggle with his lack of pace as well as been hampered in his runs by other drivers. It was a shame that he could not match his team-mate but it was his first run at the demanding Suzuka circuit. But with the revised grid Lance will start the race from 15th.
Williams Martini Japanese Grand Prix Qualifying
Team Summary:
The opening eighteen minute period would commence with Hamilton out first on the soft tyre. Vettel would also come out on the soft tyre with the others including Bottas using the super soft tyre. A 1m:29.507 from Hamilton would see him quickest with Vettel now second. Bottas would have a moment at the 2nd Degner corner taking to the gravel but he was able to continue. Both Red Bull cars were out using the super soft tyre. Gasly was third but well off the quickest time. Ocon was now third followed by Vandoorne. Bottas was now second with a 1m:29.332 while Hamilton would improve with a 1m:29.325. Verstappen was now quickest with a 1m:29.181. Hamilton was second followed by Bottas, Vettel, Ricciardo, Raikkonen, Perez, Ocon, Felipe, and Alonso tenth.

Six minutes remaining and Hamilton was again quickest with a 1m:29.047 followed by Verstappen and Bottas. As drivers came out for their second runs, including both Williams cars, Grosjean would crash seeing a red flag and as a result the end of the period. For Williams Felipe would make it into the second period but it was reported that Perez was under investigation for blocking Lance. The top ten was Hamilton, Raikkonen, Verstappen, Bottas, Vettel, Ricciardo, Perez, Ocon, Hulkenberg and Felipe tenth. So there would only be one Williams in the second fifteen minute period.

The second fifteen minute period would get underway with most drivers using the super soft except Raikkonen who was on the soft tyre. Raikkonen had a five place grid penalty due to a gearbox change. Hamilton would set a 1m:27.819 to go quickest with Vettel second by 0.6. Raikkonen was third with a 1m:29.079. Verstappen was now third but Bottas would move ahead into third but he was on the soft tyre. Bottas also had a grid penalty for a gearbox change. Raikkonen had dropped to sixth followed by Ocon, Vandoorne, Alonso and Hulkenberg. Alonso had an engine change so we start from last regardless where he qualifies.

The remaining Williams was ninth ahead of Vandoorne. All fifteen cars would pit with five minutes remaining. With under three minutes drivers started to come out for a further run. Hamilton would set a new quickest first and second sectors but would not improve. The period would end with Hamilton remaining quickest followed by Vettel, Bottas, Verstappen, Ricciardo, Raikkonen, Ocon, Perez, Felipe, and Alonso. Both Bottas and Raikkonen will start Sunday's race on the soft tyre. For Williams they would have one car into the final period of qualifying which was a great result.

The final period would see everyone except Alonso come out on new super soft tyres. A 1m:27.986 from Bottas but Hamilton would go quickest with 1m:27.345. Hamilton would improve on his second run with a 1m:27.319 while Bottas was now second. Vettel was now third followed by Ricciardo, Verstappen, Raikkonen, Ocon, Perez, Felipe and Alonso. For Williams to have one car finish ninth was such a positive turn around but to have the other down in eighteenth still shows that there is a lot of work to do. But having said that it was Lance's first run at the demanding Suzuka circuit.
Felipe Massa:
Felipe would wait to follow his team-mate out also using the super soft tyre. Felipe would set a 1m:30.352 to be sixth. Felipe would drop to ninth as he pitted with just under eight minutes remaining. Felipe would drop to tenth behind Hulkenberg by just a tenth. Felipe had returned for another super soft tyre run but his run was ruined by a red flag. Felipe would be the last driver to come out in the second period running on a new set of super soft tyres. Felipe would set a 1m:29.687 to be eighth, a good lap from the Brazilian. Felipe would have a moment with Hamilton with the pair feeling that each other had hindered the other. Hamilton was slow to get out of the way of Felipe's flying lap which would have cost him time. Felipe would drop to ninth and would pit. Felipe would come out for a final run on another set of new super soft tyres. He would not improve but would remain ninth and into the final period.
On his first run Felipe would go eighth on his first run and would be the last car out for the second run. He would finish in a encouraging ninth.
Lance Stroll:
Lance would be the first out for Williams in the opening period using the super soft tyres. Lance would set a 1m:31.409 to be fourth but would drop to sixth. Lance would complain that he was hindered by the Torro Rosso of Gasly. Lance would drop to ninth behind Gasly. This would become sixteenth and it would see him in the drop zone. He would be eighteenth but would come out for another run on a new set of super soft tyres. Lance was forced to abandon a run after being blocked by a Force India, but he's back out now for one last lap but a red falg would see him fail to improve remaining eighteenth and out of qualifying.
pqs: qs:
Japanese GP: Qualifying sees Massa 8th for Williams Martini
Posted by: Williams F1 (IP Logged)
Date: 07/10/2017 08:28
What do you think? You can have your say by posting below.
If you do not already have an account
Click here to Register
.
Sorry, only registered users may post in this forum.