Italian GP: Williams Martini Grand Prix Preview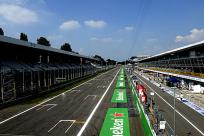 By Williams Martini Racing
August 31 2017
Just one week after the Belgian GP the Williams martini team finds itself at the famous Monza circuit for the 2017 Italian GP. After a double top ten finish in 2016 the Williams team is looking forwards to another successful weekend. For team drivers Felipe Massa and Lance Stroll it is a race and circuit that they both enjoy. For rookie Lance it is another circuit that he has experience in. After a difficult run of races the Williams team is hopeful that the FW40 will suit this circuit with its high speed nature.
Italy's Autodromo Nazionale Monza hosts Round 13 of this year's Formula One World Championship and serves as the final stop on the European leg of the 2017 calendar. Home to the legendary Italian fans, the 'Tifosi', Monza is one of the oldest circuits in the world, constructed back in 1922. After qualifying fifth in 2016 and recording a double top-ten finish, the team hopes for a strong weekend with its 2017 challenger, the FW40.
PADDY LOWE:
Straight out of Spa we come to Monza which is another of the great circuits in Formula One. It is also one of my favourite tracks due to the passion you feel from the crowd (the "Tifosi"), and the history of the iconic track, which still has preserved sections of the old high banking. It is incredible that a circuit like this should exist inside a park in a city centre, but that is a demonstration of the enthusiasm of our Italian hosts for this great sport of Formula One. The circuit is extremely fast, the fastest of the year, requiring a special aerodynamic configuration with lower drag and lower downforce. Despite that, there remain a lot of challenging corners and big braking events to negotiate.
FELIPE MASSA:
Monza is a track I love and a country I love to race in. I managed to have two podiums for Williams in Monza and it would be really nice to have another one. It's a nice track with amazing Formula One fans so it's always an amazing pleasure to race in Monza.

LANCE STROLL:
You just can't get away from the history of the track and the passion of the tifosi who love the Scuderia. The atmosphere hits you as soon as you arrive and it is a great feeling for all of us drivers. I have been there in Formula 3, so this is another circuit that I have raced on, in fact the fifth and the last of the year that I know from a racing point of view. I think our car should be good there from what I have seen, and hope we can get a good result.

Race Data
Friday:
Practice 1: 10:00 - 11:30
Practice 2: 14:00 - 15:30
Saturday:
Practice 3: 11:00 - 12:00
Qualifying: 14:00 – 15:00
Sunday: Race: 14:00
pqs: qs: