Belgian GP: Further difficulties for Williams Martini in FP2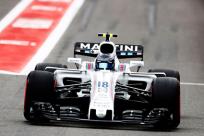 By Andrew Hooper
August 25 2017
The second Friday practice session fro the 2017 Belgian GP would see only one Williams Martini car take to the track. Lance Stroll would continue to put in laps but again his time would only see him 17th in what was an uneventful session for the rookie. For Felipe Massa he would not get to run as the team continued to repair his damaged car. Even if it was repaired the teamm is having to wait until his car is scritineered again which will take place on Saturday.
Williams Martini Belgian GP Friday 2nd Practice
Team Summary:
With the start of the second Friday practice it would be the Hass cars out first. The first time set was a 1m:48.846 from Palmer but Raikkonen would go quickest with a 1m:47.049 followed by Hulkenberg and Vandoorne. Raikkonen was on the soft tyres with Verstappen moving to the top of the times with a 1m:46.481 on the super soft tyre. But this would change as Vettel set a 1m:46.405 to be quickest. Sainz and Kvyat were now fourth and fifth but Ricciardo would go fifth. Ocon was now sixth as the Mercedes drivers set their first times with Hamilton on the soft tyre setting a 1m:45.634 to be quickest with Bottas second, 1m:46.331, on the super soft tyre. The Mercedes drivers would swap fastest sector times.

With an hour remaining the top twelve were all in their pits. Drivers would return with the ultra soft tyre coming out with Vettel going quickest with a 1m:45.235 but Bottas would move ahead with a 1m:45.180. But it would quickly change as Raikkonen went ahead with a 1m:45.015. But Hamilton would go even quicker with a 1m:44.753. Also on the ultra soft tyre Ricciardo would go sixth with a 1m;46.072 to be behind Vettel. Drivers were now on longer runs on the ultra soft tyre. Raikkonen was out on the soft tyre for a longer run. There were reports of light rain at certain parts of the circuit. As the rain continued to fall drivers would start to pit eventually seeing the track empty. But with just over ten minutes remaining a few drivers would return running on the intermediate tyre, but such was the rain that it did not look like the right tyre. They would pit with it not likely that any further running would be seen.

With the end of the session quickest was Hamilton followed by Raikkonen, Bottas, Verstappen, Vettel, Ricciardo, Hulkenberg, Ocon, Sainz and Palmer tenth. Lance would finish the session in seventeenth in what was again a frustrating session for Williams with only one car running.

Felipe Massa:
For Felipe his second Friday session would see him watching his car been repaired after his earlier crash. Such was the damage to the car that a new chassis would have to be used thus requiring his car to be scrutineered again before he could run again, which was confirmed by the FIA. This would see him miss the second session which was a major setup back for the Brazilian. With the end of the session Felipe's car could be seen with its gearbox off looking like there was still a lot of work to do.

Lance Stroll:
With Felipe not been able to run the focus would now be on Lance to complete the teams schedule. With over twenty minutes completed lance had yet to come out but would finally come out running on the super soft tyre. Lance would set a 1m:48.789 on his first run seeing him eleventh, dropping to thirteenth behind Perez. Lance had improved from his first session time and he would again find time in the second session setting a 1m:48.331 to be twelfth again. Lance would pit having completed a seven lap run. lance would drop to seventeenth with forty five minutes remaining in the session. With forty minutes remaining Lance was back out this time on the ultra soft tyre. Lance was able to improve setting a 1m:47.861 but he would not improve his position. Lance would pit after six laps on the ultra soft tyre. With the rain arriving Lance would not get any further running.
| Pos | Driver | Car | Time | Gap | Laps |
| --- | --- | --- | --- | --- | --- |
| 1 | Lewis Hamilton | Mercedes | 1m44.753s | - | 17 |
| 2 | Kimi Raikkonen | Ferrari | 1m45.015s | 0.262s | 21 |
| 3 | Valtteri Bottas | Mercedes | 1m45.180s | 0.427s | 17 |
| 4 | Max Verstappen | Red Bull/Renault | 1m45.225s | 0.472s | 16 |
| 5 | Sebastian Vettel | Ferrari | 1m45.235s | 0.482s | 20 |
| 6 | Daniel Ricciardo | Red Bull/Renault | 1m46.072s | 1.319s | 15 |
| 7 | Nico Hulkenberg | Renault | 1m46.441s | 1.688s | 24 |
| 8 | Esteban Ocon | Force India/Mercedes | 1m46.473s | 1.720s | 19 |
| 9 | Carlos Sainz | Toro Rosso/Renault | 1m46.561s | 1.808s | 19 |
| 10 | Jolyon Palmer | Renault | 1m46.670s | 1.917s | 23 |
| 11 | Fernando Alonso | McLaren/Honda | 1m46.743s | 1.990s | 20 |
| 12 | Sergio Perez | Force India/Mercedes | 1m46.984s | 2.231s | 18 |
| 13 | Romain Grosjean | Haas/Ferrari | 1m47.285s | 2.532s | 15 |
| 14 | Stoffel Vandoorne | McLaren/Honda | 1m47.303s | 2.550s | 17 |
| 15 | Daniil Kvyat | Toro Rosso/Renault | 1m47.450s | 2.697s | 12 |
| 16 | Kevin Magnussen | Haas/Ferrari | 1m47.556s | 2.803s | 15 |
| 17 | Lance Stroll | Williams/Mercedes | 1m47.861s | 3.108s | 13 |
| 18 | Marcus Ericsson | Sauber/Ferrari | 1m49.214s | 4.461s | 12 |
| 19 | Pascal Wehrlein | Sauber/Ferrari | 1m49.725s | 4.972s | 18 |
pqs: qs:
Belgian GP: Further difficulties for Williams Martini in FP2
Posted by: Williams F1 (IP Logged)
Date: 25/08/2017 14:51
What do you think? You can have your say by posting below.
If you do not already have an account
Click here to Register
.
Sorry, only registered users may post in this forum.