Barcelona Test 16:05:2018 Day Two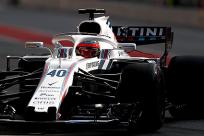 By Andrew Hooper
May 17 2018
The second day of the Williams Martini teams test at the Barcelona circuit would see Reserve Driver Robert Kubica complete the driving duties. It was a day that again saw the team working through a programme aimed at improving the performance of the FW41. The team would come away with another successful day where extensive amounts of data were collected all aiming at producing a solutiuon to the cars problems.
Barcelona Test 16:05:2018 Day Two
Chassis / Engine: FW41-02 / Mercedes-AMG F1 M09 EQ Power+
Location: Circuit de Barcelona-Catalunya, 4.655 km
Weather: Warm and dry Temperatures (min-max): Air 22ºC / Track 30ºC
The second day of the Williams Martini teams Barcelona test would see Robert Kubica take over from Oliver Rowland. After his first series of runs Robert would set a 1m:20.335 having completed twenty seven laps. Quickest time at this point was a 1m:16.999 set on the soft tyre. Robert would complete short runs as the morning progressed. Robert would switch to the supersoft tyre and was able to improve his lap time setting a 1m:20.051. He would continue his run on this tyre and would pit after completing forty six laps in total.

A further run from Robert would see him lower his lap time to a 1m:19.897 still on the supersoft tyres. The quickest time had been lowered to a 1m:16.904 set on soft tyres. He would improve with a 1m:19.253 running on hypersoft tyres. Having now completed fifty eight laps Robert would pit for the lunch break. The afternoon session would commence with Robert completing several short runs. Robert would continue moving up to eighty one laps. The afternoon session would be hampered by several red flags but despite this Robert continued with the teams test programme. With around two hours remaining he had completed ninety three lap. By the end of the day Robert would complete 123 laps.

Dave Robson, Performance Projects – Principal Engineer: We've had another very busy and productive day today with a lot of laps completed. We've run a solid programme with Robert, building on the ground work we did yesterday with Oliver in the car. Robert's done a really good job and once again we've collected an awful lot of data that's hopefully going to help inform how we set the car up and develop it in Monaco and beyond.

Robert Kubica, Reserve and Development Driver: There will be a lot of things to analyse and double check with all the data we gathered. It was an interesting day from a driving point of view but it will be more interesting for the guys back at the factory to look at the data and see what we can get out of it. With limited time we need to find the best way of fixing our issues. That's not something we will be doing in 24 hours. I am happy to help and I did my best as always.
Pos. Driver 	 Team 		  Best Time Best/Total Laps 
1. V. Bottas 	 Mercedes 	  1:16.904  55 / 139  
2. A. Giovinazzi Ferrari 	  1:16.972  51 / 48 
3. L. Norris 	 McLaren 	  1:18.039  79 / 80 
4. K. Magnussen  Haas 		  1:18.274  40 / 75 
5. N. Mazepin 	 Force India 	  1:18.344  104 / 112 
6. J. Aitken 	 Renault 	  1:18.942  51 / 120 
7. C. Leclerc 	 Sauber 	  1:18.993  46 / 139 
8. R. Kubica 	 WILLIAMS MARTINI 1:19.253  52 / 123 
9. P. Gasly 	 Toro Rosso 	  1:19.410  29 / 39 
10. S. Vandoorne McLaren/Pirelli  1:19.914  16 / 96 
11. J. Dennis 	 Red Bull 	  1:20.440  57 / 75 
12. S. Gelael 	 Toro Rosso 	  1:20.763  55 / 83 
13. N. Latifi 	 Force India 	  1:21.412  96 / 121
pqs: qs: