Barcelona Test 09:03:2018 Day Four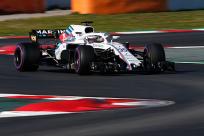 By Williams Martini Racing
March 10 2018
In what was the final day of testing for the Williams Martini team prior to the 2018 Australian GP Sergey Sirotkin and Lance Stroll would have a productive day working through a range of tyres as well as a series of performance tests. For Sergey it was probably his best day of testing completing 105 laps. Lance was limited in his track time but still came away feeling good about his days testing.
Barcelona Test 09:03:2018 Day Four
Driver: Sergey Sirotkin (AM), Lance Stroll (PM)
Chassis / Engine: FW41-01 / Mercedes-AMG F1 M09 EQ Power+
Location: Circuit de Barcelona-Catalunya, 4.655 km
Weather: Warm and dry Temperatures (min-max): Air 8-21ļC / Track 9-28ļC

The final day of the Williams martini teams per-season testing would get underway with Sergey Sirotkin carrying out the driving duties in the morning session. Sergey would complete the usual installation lap with his first run seeing him on the ultrasofts. He would set a 1m:23.239 improving with a 1m:22.612 prior to pitting. His next run would see him back out on the medium tyre but his red would be stopped due to a red flag. Sergey had completed fourteen laps prior to pitting. With the restart Sergey would head straight back out and would improve with a 1m:20.963 prior to pitting for another red flag.

His next run would see him out on the soft tyre and it would also see a further improvement with a 1m:20.750 prior to pitting again. He had completed thirty two laps at this point. Sergey would continue his use of the soft tyre and would set an improved 1m:20.377. Sergey was able to put in a 1m:20.250 just prior to pitting. He had completed fifty nine laps at this point. It was confirmed that Robert Kubica had given up his time in the FW41 preferring to see Stroll get more time in ths car.

Midday and Sergey would return for further laps on the soft tyre. His run would come to an end having completed now seventy two laps. With there been no lunch break Sergey would head back out for what would be his last run in testing. He would again improve his time with a 1m:19.996 still on the soft tyre. Sergey would pit but would return and would set a 1m:19.837 to lower his quickest time still on the soft tyre. He would pit and would return this time on the supersoft tyre. He would again improve with a 1m:19.189. After a short run he would pit having now completed ninety three laps. Sergey's next run was on the ultrasoft tyre as he continued to try various compounds. He would complete his run pitting having completed one hundred and five laps.

After a break Lance Stroll would come out for his first run using the soft tyres. He would set a slow 1m:29.852 on his first lap but would improve with a 1m:21.318 and a 1m:20.938. This was a second slower than the best soft tyre time set by Sergey. Another improvement of 1m:20.523. He would pit after an eight lap run. After a short break Lance would return to the track still on the soft tyre. A two lap run and he would pit again. Lance would make one final improvement with a 1m:19.954 but remained at the bottom of the times as the session came to an end.
Paddy Lowe, Chief Technical Officer: A far better day than yesterday with Sergey running a long half-day across lunchtime up until 14:30, without any issues, but not perfect as Lanceís final two hours in the car were interrupted by a failure in the fuel system. Sergey managed a full programme of performance tests ending with a qualifying simulation on a range of softer tyres. He achieved good results on the soft tyre but unfortunately, we were unable to improve with the supersoft or ultrasoft. This is something we clearly need to understand. Lance completed the day with some further performance tests giving our final information before we get to the first race. Today brings to an end our 13-day pre-season testing session in Spain, during which we have run eight full track days and two promotional events, and given time in the car to Lance, Sergey and Robert. The weather has not been ideal, but the team have made the best of the time and conditions available. Considering this car had not even fired up just two weeks ago, reliability has been very impressive with only two significant failures losing track time. We have learnt a lot about the FW41 and completed all the necessary commissioning processes to be fully prepared for the first race. Well done to the team for the huge job done so far, and especially to our three drivers who have pushed themselves and the team hard but without incident, especially in some very tricky conditions.

Sergey Sirotkin: Today was definitely the best day of the last two weeks. We managed quite a lot of laps in the morning and the afternoon. We completed quite a good set-up evaluation as well, with slightly different tyre compounds and fuel loads, so it was an interesting and nice day. The weather was on our side which made the car much more consistent and driveable, which we havenít really had until Wednesday. It was the second proper testing day for me and the best one of them. There are still some issues, obviously. Itís not all great and there are many little things we need to analyse and try to learn from to get sorted for Australia, but at least we found out what things are right and what things are not, which gave us a direction to work in. Now we will do some homework and see where we will be in Australia.

Lance Stroll: Thatís the last day of testing done, next up is Australia. Today felt pretty good, I think we did some good running. We have some bits and pieces to sort out before Australia but I feel pretty good in the car.
Pos. Driver 	Team 		  Best Time Best/Total Laps 
1. K. Raikkonen Ferrari 	  1:17.221   60 / 157 
2. F. Alonso 	McLaren 	  1:17.784   87 / 93  
3. C. Sainz 	Renault 	  1:18.092   36 / 45 
4. D. Ricciardo Red Bull 	  1:18.327   79 / 92 
5. R. Grosjean 	Haas 		  1:18.412   87 / 181 
6. V. Bottas 	Mercedes 	  1:18.825   79 / 104 
7. B. Hartley 	Toro Rosso 	  1:18.949   78 / 156 
8. E. Ocon 	Force India 	  1:18.967   63 / 163
9. C. Leclerc 	Sauber 		  1:19.118   60 / 75 
10. S. Sirotkin WILLIAMS MARTINI  1:19.189   86 / 105 
11. L. Hamilton Mercedes 	  1:19.464   24 / 97 
12. L. Stroll 	WILLIAMS MARTINI  1:19.954   25 / 27
pqs: qs:
Barcelona Test 09:03:2018 Day Four
Posted by: Williams F1 (IP Logged)
Date: 10/03/2018 01:02
What do you think? You can have your say by posting below.
If you do not already have an account
Click here to Register
.
Sorry, only registered users may post in this forum.