Barcelona Test 08:03:2018 Day Three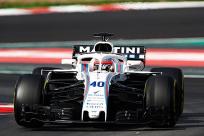 By Williams Martini Racing
March 9 2018
Day three of the Williams martini teams Barcelona test and it would be Robert Kubica who would run in the morning and Lance Stroll in the afternoon. Both drivers would have the opportunity to evaluate different tyres but the majority of their time was spent on the soft tyre. As it was their first time on the softer tyres there were some issues, especially with Lance, in getting the correct setup.
Barcelona Test 08:03:2018 Day Three
Driver: Robert Kubica (AM), Lance Stroll (PM)
Chassis / Engine: FW41-01 / Mercedes-AMG F1 M09 EQ Power+
Location: Circuit de Barcelona-Catalunya, 4.655 km
Weather: Warm and dry Temperatures (min-max): Air 6-15ļC / Track 14-30ļC

The third day of testing for the Williams Martini team would see Robert Kubica make his first appearance running in the morning session. Lance Stroll would run in the afternoon. Robert would complete the usual installation lap and on his firs run, using soft tyres, he would set a 1m:21.790 completing nine laps in the process. His next run would again see the soft tyre in use and he would improve his lap time with a 1nm:20.689. This would would see Robert complete ten laps. As the clouds started to increase over the circuit Robert would return to a further run staying on the soft tyres.

Robert would set a new personal best with a 1m:20.674 as he continued to lap on the soft tyre. Again it would be a short run seeing him now having completed twenty seven laps. His next run would see him improve his time with a 1m:20.202 continuing on the soft tyre. He would follow this with a 1m:20.119. He would pit and return this time on the supersoft tyre and would improve his time with a 1m:19.922 followed by a 1m:19.917 and then a 1m:19.629. Having completed a total of fifty nine laps Robert would pit returning to the soft tyre for another run. By the time the lunch time break came along Robert had completed seventy three laps.

The afternoon session would get underway with Lance Stroll using soft tyres for his first run. As he completed more laps he was able to improve with a 1m:20.422. Lance would pit after a short seven lap run. Lance would return for another short run again on the soft tyre. He would pit again after completing a total of fourteen laps. Lance did have one moment where his car slowed with what sounded like a lack of drive but he was able to continue possibly explaining why he pitted. Lance was able to return to the track still running on the soft tyre and was able to see a small improvement with a 1m:20.276 but he would pit and switch to the supersoft tyre. He would not improve his time and pit again.
The rest of the afternoon would see Lance complete longer runs as well as having to cope with red flags. He would have a run on the ultrasoft tyres but would fail to improve on his first lap and would only just move ahead of his previous quickest time with a 1m:20.262. With the end of the session Lance would have completed sixty five laps.
Paddy Lowe, Chief Technical Officer: Today we had Robert in the morning and Lance in the afternoon and our focus was to work with the different tyre compounds, something we havenít done so far in this winter testing. We had good reliability all day, and some reasonably good running with Robert in the morning, and actually his first chance to really drive the car in decent conditions. So, Iím sure with more time, he could have improved even further, but some good results and some good information from Robert. The afternoon started well with Lance but unfortunately, we lost our way with the set-up and didnít find any lap time with the softer compounds, but actually by the end of the day, we discovered some important directions and we can work further with this tomorrow.

Robert Kubica: This morning it was my second time in the car. The conditions were better than last week with higher temperatures, although in the morning it was still quite cold. I did another half day to get some more running and complete more specific tests on the car in order to get more data. We tried a softer compound, going from the soft to supersoft, just to get the basic information that we have on the tyre. Now we have to go through the data and try to analyse everything.

Lance Stroll: I feel good, we have got kilometres on the car so I am looking forward to heading to Australia. You have just got to keep chipping away at it and that is the key for now, as there is still a lot to work on, but everyone is in the same boat. We really don't know where we stand right now and will have to see in Melbourne. There is not much you can see from the timesheets, as everyone is running different fuel levels and doing lots of different things. The midfield will most probably be closer than last year because of the developments by everyone. This week we did more running and it was better weather, so we had much better conditions. The car still needs some work on it to understand the balance, tyres and all that, but we shall see.

The FW41 returns to the track tomorrow for the final day of pre-season testing, with Sergey driving in the morning session, before handing over to Lance in the afternoon.
Pos. Driver 	  Team 		   Best Time Best/Total Laps 
1. S. Vettel 	  Ferrari 	   1:17.182   83 / 188 
2. K. Magnussen   Haas 		   1:18.360   61 / 153 
3. P. Gasly 	  Toro Rosso 	   1:18.363   159 / 169 
4. N. Hulkenberg  Renault 	   1:18.675   48 / 79 
5. C. Sainz 	  Renault 	   1:18.725   55 / 69 
6. S. Vandoorne   McLaren 	   1:18.855   20 / 151 
7. M. Ericsson 	  Sauber 	   1:19.244   69 / 148 
8. L. Hamilton 	  Mercedes 	   1:19.296   78 / 84 
9. V. Bottas 	  Mercedes 	   1:19.532   86 / 97
10. R. Kubica 	  WILLIAMS MARTINI 1:19.629   54 / 73 
11. S. Perez 	  Force India 	   1:19.634   68 / 159 
12. M. Verstappen Red Bull 	   1:19.842   62 / 187 
13. L. Stroll 	  WILLIAMS MARTINI 1:20.262   56 / 67
pqs: qs:
Barcelona Test 08:03:2018 Day Three
Posted by: Williams F1 (IP Logged)
Date: 09/03/2018 01:36
What do you think? You can have your say by posting below.
If you do not already have an account
Click here to Register
.
Sorry, only registered users may post in this forum.