Barcelona Test 01:03:2018 Day Four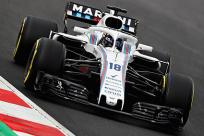 By Williams Martini Racing
March 2 2018
The Williams Martini team would complete their first week of testing at the Barcelona circuit. Sergey Sirotkin and Lance Stroll would share the driving but it would be Sergey would would have to contend with a wet track.In the afternoon the track would dry allowing Lance to get some limited performance runs on the final day.
Barcelona Test 01:03:2018 Day Four
Barcelona Test One – Day Four
Driver: Sergey Sirotkin (AM), Lance Stroll (PM)
Chassis / Engine: FW41-01 / Mercedes-AMG F1 M09 EQ Power+
Location: Circuit de Barcelona-Catalunya, 4.655 km
Weather: Cold and wet (AM), Warm and dry (PM) Temperatures (min-max): Air 8-16ºC / Track 8-13ºC

The final day of the Williams Martini teams Barcelona test would see Sergey Sirotkin run in the morning and Lance Stroll in the afternoon.
At the end of the morning session it would be forty seven laps completed by Sergey this morning. His run would see him on first the full wet and then the intermediate tyre. Sergey would stop his test just as the track dried out so his time would see him down the order which was not surprising as all his track time was in the wet.

Lance would take over in the afternoon when the track was drying out. Lance would set a 1m:36.864 on his first timed lap. Improving to get down to a 1m:24.597.

Lance would progress moving up into sixth place. The Canadian has set 19 laps since taking over from Sergey Sirotkin this afternoon. His last lap was a 1:21.980 running on the soft tyre and he has now returned to the pits. Further runs would see him improve with a 1m:21.142 to finish the day in seventh.
Paddy Lowe, Chief Technical Officer: It's been a very difficult week weather-wise but actually, we're very happy to have made the most of the conditions we had. We've recorded huge amounts of data and we've achieved a lot of very reliable running without any failure and we've had our first look at the performance of the car on laps, although the final afternoon was the only day of anything like reasonable temperatures for running a racing car. A great job has been done by the team considering this car had not even fired up a week ago and a great job by Lance, Sergey and Robert to manage the car in such difficult conditions without causing any damage. We look forward to coming back next week for hopefully some warmer weather when we gear up for some more representative performance testing.

Sergey Sirotkin: It was still quite a good, productive week. Of course, it was not ideal in some aspects, but I believe we squeezed the best out of the situation. It was nice to feel how the new car behaves on the track in different conditions. We haven't got the full picture of the car yet but I think we can see some strong points and I believe we can make them even stronger, as well as correct the weaker parts. Next week, we will have better weather and a better chance to do this. Today, we collected as much data and knowledge as possible about the car. I got some feeling for the car with quite a good amount of consistent wet running, so a reasonable amount of information about the car and myself.
Lance Stroll: My day was pretty good. I felt good in the car, the balance feels good. It's not easy to warm the tyres, it takes quite some time to get them working but it shouldn't be this cold during the year. My initial thoughts are the car feels pretty good. We have a lot of work to do and a lot to understand. The seat time is good, building confidence in the car. It's a new car, with new balance, a lot has changed. I did quite a few laps this afternoon, that's always positive in a first test. Next week, it's going to be a busier week than predicted because of the conditions this week. It's been a big off-season for everyone and the expectations are high coming into this year. We definitely want to take a step forward. We know the competition's difficult from other teams but that doesn't bring us down, it should give us more motivation to go out and be the best we can be.

The FW41 will be back in action next week when pre-season testing resumes on Tuesday 6 March, concluding on Friday 9 March.
Pos. Driver 	  Team Best 	   Time     Best/Total Laps
1. L. Hamilton 	  Mercedes 	   1:19.333  48 / 69  
2. S. Vandoorne   McLaren 	   1:19.854  90 / 110 
3. S. Vettel 	  Ferrari 	   1:20.241  93 / 120 
4. K. Magnussen   Haas 		   1:20.317  81 / 96 
5. F. Alonso 	  McLaren 	   1:20.929  19 / 51 
6. C. Sainz 	  Renault 	   1:20.940  27 / 60 
7. L. Stroll 	  WILLIAMS MARTINI 1:21.142  43 / 54 
8. S. Perez 	  Force India 	   1:21.973  30 / 65
9. M. Verstappen  Red Bull 	   1:22.058  34 / 35 
10. P. Gasly 	  Toro Rosso 	   1:22.134  59 / 147 
11. N. Hulkenberg Renault 	   1:22.507  47 / 49 
12. V. Bottas 	  Mercedes 	   1:22.789  59 / 60 
13. C. Leclerc 	  Sauber 	   1:22.808  12 / 59 
14. M. Ericsson   Sauber 	   1:23.825  75 / 79 
15. S. Sirotkin   WILLIAMS MARTINI 1:31.979  46 / 47
pqs: qs: