Williams Martini reveals FW41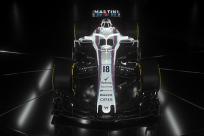 By Williams Martini Racing
February 15 2018
Williams Martini Racing has revealed a first look of its 2018 Formula One challenger, the Williams Mercedes FW41, at the team's season launch in London this evening. The FW41 looks significantly different to its predecessor the FW40. Speaking ahead of the 2018 season, Claire Williams, Deputy Team Principal, said: "I am thrilled to be back and launching our new car, for a new season, with a new, exciting driver line-up. (Additional images)
Williams Martini reveals FW41
Williams Martini Racing has revealed a first look of its 2018 Formula One challenger, the Williams Mercedes FW41, at the teamís season launch in London this evening.

The FW41 looks significantly different to its predecessor, the FW40, following input from the teamís Chief Technical Officer, Paddy Lowe, and Head of Aerodynamics, Dirk de Beer, who were both appointed at the beginning of last year, to join forces with Chief Designer Ed Wood.

Speaking ahead of the 2018 season, Claire Williams, Deputy Team Principal, said: ďI am thrilled to be back and launching our new car, for a new season, with a new, exciting driver line-up. For many months, the team have put a tremendous amount of effort into the FW41 and Iím eager to see both Lance and Sergey take to the track later this month.

ďLance produced some impressive performances last year in what was a remarkably strong debut season, where he only just lost out to Felipe in the standings. His podium finish was the only one outside of the top three teams, and we aim to build on that this season.

ďItís also my pleasure to welcome Sergey and Robert to Williams, who have both displayed exceptional speed and qualities that I know will only strengthen the team. Sergey has impressed the technical team and it is great for us to be able to give him the opportunity to step up into a race seat. Robert, will also be working closely with the team, utilising his experience to help develop the car throughout the season.

ďOur entire team have put a huge amount of effort into the development and production of this yearís car, and weíre all looking forward to seeing it on the track. I would also like to thank our partners and fans for all their confidence and support.Ē
Chief Technical Officer, Paddy Lowe, added: ďIt is very exciting to be giving everyone the first look at the FW41. It is the product of some great teamwork across the various functions in the organisation including aerodynamics design, vehicle dynamics, race engineering and systems engineering. The car has many new features, most of which are not all that obvious, but externally the team has pursued a very different aerodynamic concept which has allowed us some significant progress in aerodynamic performance. All Formula One cars are an evolution of what has gone before to some extent, but the FW41 does involve a number of departures from the directions that have been pursued in the past.

Overall, the philosophy we are starting to see emerge is a new approach to the collaboration between aerodynamics and design to achieve the optimum working result. Aerodynamics, structure and weight are the three major trades to be made in designing a Formula One car, and all the work, alongside a number of radical changes to the carís packaging to incorporate further developments from Mercedes HPP, have led us to the FW41 being revealed today. We hope that this car will make progress in the performance rankings relative to 2017. The whole technical team is also feeling very positive about our two talented young race drivers with the combination of Lance and Sergey, alongside the contribution of Robert as our reserve and development driver.Ē

In his debut Formula One season, Lance broke two records by becoming the youngest rookie podium finisher with a third-place finish at the Azerbaijan Grand Prix, as well as becoming the youngest front-row starter, after securing second on the grid for the Italian Grand Prix. In 2018, Lance enters his second season with Williams, and commented, ďAhead of every new season there is a lot of anticipation and unanswered questions and this makes it even more exciting. With a season under my belt with the team, I can't wait to get back on track and see what the new car is like. Until we are on track we will not know what the competition has been doing, but I am very excited and optimistic about the car the team has built. Last year was a steep learning curve for me and now I can't wait to see what 2018 has in store.Ē
Making his Formula One race debut in 2018, Williamsí new recruit Sergey Sirotkin said: ďI feel really excited ahead of the season. Iíve spent a lot of time at the factory, Iím almost living there at the moment which has been great motivation for me and for all of the people around the factory. Itís been a big enjoyment to start working properly with all the mechanics and engineers, and itís going well. Iíve been training hard and Iíve been in the simulator regularly, going through different set-ups with the car, different tracks, seat fittings and also a lot of engineering meetings and factory tours to meet everyone. Iíve been having fun with all the guys from different departments. Itís busy times, but I am really enjoying it. Iím getting ready for the season in the best possible way.Ē

In 2018, Robert Kubica makes his return to Formula One as Williamsí Reserve and Development Driver, adding: ďIím back in Formula One in a different role to when I was racing in 2011, but Iím back permanently in the F1 paddock, so Iím looking forward to it. It will be interesting to go back to some of the places I have been before, some of them providing different emotions from different moments in my life. Sometimes it can be quite difficult watching others racing, but I have a different role this year. It's sure to be a tough season with a lot of races and things to do. I have to be on top of the work I have to do for the team. So, letís get started!Ē

The FW41 will take to the track for the first day of the Barcelona test on Monday 26th February for eight days of testing, concluding on 9th March. The season officially begins at the first race in Melbourne, Australia, on 25th March.
pqs: qs:
Williams Martini reveals FW41
Posted by: Williams F1 (IP Logged)
Date: 15/02/2018 20:25
What do you think? You can have your say by posting below.
If you do not already have an account
Click here to Register
.
Sorry, only registered users may post in this forum.