Williams F1 enhances its sporting profile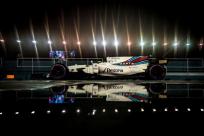 By StuartL
September 19 2017
We can and should celebrate the dynamic improvement under the leadership of Claire Williams in Williams F1's sporting and fan engagement profile as the team widens its relationship to a new generation of Formula One fans. From its paddock presentation, through its website and social media presence, to its embracing of team history, there is evidence everywhere of the team working very hard to engage fans and sponsors alike. - This is the first feature article from contibutor StuartL
Williams F1 enhances its sporting profile during it's 40th
Anniversary Year.
We can and should celebrate the dynamic improvement under the leadership of Claire Williams in Williams F1's sporting and fan engagement profile as the team widens its relationship to a new generation of Formula One fans.

From its paddock presentation, through its website and social media presence, to its embracing of team history, there is evidence everywhere of the team working very hard to engage fans and sponsors alike.

Starting at the business end of the sport, Williams introduced its state of the art paddock hospitality unit during the 2014 season and its paddock guests now enjoy three storeys of best in class facility. A big investment for the team, but it gave a very needed update from the single level early 2,000's Williams BMW unit that was looking tired. Guests now enjoy Michael Caines aLa cartefood, and with special emphasis of the Upper floor Martini Terraza.

Fair to say though that the team wants its relationship with fans to be stronger and it is great to see that they have taken a dominant presence at the last two Autosport International shows at the NEC in January showcasing the best of its championship cars, but also showing the imagination to reconstruct its paddock hospitality unit and to create an interactive walk through experience showcasing the teams progression from its early days. Yes it celebrated Patrick Heads strong voice, and the era when Frank used a pay coin phone box to make his calls due to money troubles. We can perhaps hope these ideas are taken outside the uk to other parts of the world.

Team news and updates are also completely revitalised as the sponsor Avenade has created a web content platform that feels fresh and first class in terms of news and links to social media. the team now has over 500,000 twitter followers which is growing rapidly, and some very good content. Add the Williams You tube channel, and the new register for exclusive content links and you see a real effort in engagement.

We are seeing the emergence in key management being positioned in the press and media. None more so than Claire herself, a lot of effort being made to seamlessly pass the cult of leadership personality from Frank to his daughter as the team plays its family card. Paddy Lowe as a new shareholder needs no introduction, but is equally media savvy and is a key tool in Williams armoury. Lovable rogue Rob Smedley best known for his "Felipe baby" communications is another popular engineer put forward for media duties. Contrast with the deliberately low profile of CEO Mike Odriscoll, and you sense the team knows who it wants to champion most for its long term health.

What I like this year is the embracing of history as Williams begins to celebrate its past as part of the investment in its brand to set up its future, The Williams 40th anniversary day at Silverstone with 19 Williams cars in front of 50,000 fans was a very unique event, with the milestone of seeing Nigel Mansells 1992 championship winning car running again after 25 years. The team is investing in the emotive pull if it's brand and positioning itself quite cleverly relative to competitors. How clever to Let Martin Brundle drive its 6 wheeler, again good coverage secured

Perhaps the biggest milestone this year was the Williams movie, an amazing biopic looking at the development of the team and achievements of Frank and his wife Ginny pre and post his life changing accident. Again savvy media engagement, linking to Martini who sponsored the films production.

We also see clever ways of securing air time for sponsors on tv. Guy Martin Speed gave the team one hours prime time coverage, all linked to Guy becoming the first member of the public to be an active member of our pit stop crew during an Grand Prix.

Many of us would like to see Williams as the dominant team, and re-emergence of Williams positivity and drive at activating its brand and those of its sponsor partners augers well for raising the revenues to allow the team to keep moving forwards. Lets toast Claire Williams and her team for this significant improvement and we await the next brand improvement initiatives with interest.
pqs: qs: