Hungarian GP: Race sees Williams Martini achieve little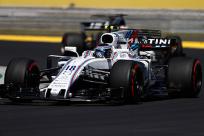 By Andrew Hooper
July 31 2017
In a race that saw both Williams Martini cars start from the rear of the grid the 2017 Hungarian GP saw the team come away with little in the way of a result. Lance Stroll would have a lonely race finishing in 14th one lap behind the leaders. For reserve driver Paul Di Resta his race would end in retirement when he was told to pit by the team with an issue with his car. It was later announced that it was an oil leak. Overall the team suffered from an uncompetitvive car complicated by the fact that the team had to bring in their reserve driver when Felipe Massa feel ill.
Hungarian Grand Prix Race Review
The grid for the seventy lap 2017 Hungarian GP would see the Williams Martini team drivers starting from seventeenth and nineteenth with Lance Stroll ahead of reserve driver Paul Di Resta. On pole was Vettel from Raikkonen, Bottas, Hamilton, Verstappen, Ricciardo, Alonso, Vandoorne, Sainz and Palmer in tenth. Palmer had moved up due to a penalty with his team-mate Hulkenberg who dropped to twelfth. All of the top nine were on used super soft tyres while Palmer in tenth was on new. For Williams Lance was on new super soft's while Paul was on new soft tyres. The only other driver on the soft tyre was Kvyat. On a hot day the grid would move away for their parade lap. After a quick lap Vettel would take up his position with the grid forming up. The lights would come on and it would be Vettel leading from Raikkonen. Bottas was third with the Red Bulls behind but Ricciardo would spin after the pair having made contact at Turn two. Ricciardo would spin avoiding making contact with other cars but he would stop with damage to his car which would see the Safety Car come out

For Williams Lance was now fifteenth and Paul eighteenth. Hamilton was down in fifth followed by Sainz and Alonso. The incident between Verstappen and Ricciardo was now under investigation. There was contact between Grosjean and Hulkenberg which would also come under investigation. Lap seven and the Safety Car would come in with Vettel leading with Hamilton challenging Verstappen. Paul was now up to seventeenth ahead of Ericsson. Under the Safety Car both Sauber's had pitted switching to the soft tyre. Verstappen was given a ten second time penalty for causing a collision. Lap ten and Vettel was leading Raikkonen by 2.7 seconds. Alonso and Sainz would make contact at the Safety Car restart but no action would be taken while at the front Vettel's lead was out to 2.9 seconds after lap seventeen.
Bottas was over six seconds behind Raikkonen with the rest of the top ten fairly well separated. Palmer would let team-mate Hulkenberg past and into eleventh on lap twenty one. Raikkonen would close the gap slightly to Vettel while for Hass Grosjean would be forced to pit with a left front tyre that was going flat. He would return in nineteenth. This would see Paul move up to sixteenth eight seconds behind his team-mate. But Grosjean was told to slow and return to the pits but would pull of at an escape road with his left rear wheel not secured properly. Lap twenty five and Raikkonen was 2.2 seconds behind Vettel. But Vettel would come onto his radio complaining about his steering saying its hanging to the left.

Lance was running 2.5 seconds behind Kvyat while Paul was 12.3 seconds behind his team-mate. Raikkonen was now 1.1 seconds behind Vettel with thirty laps completed. Raikkonen would say: "I'm stuck behind Seb now, and I'm suffering." Lance would pit on lap thirty two taking on new soft tyres coming out in sixteenth. At the front Bottas had also pitted taking on new soft's. He would drop to fifth. Both Williams car had been lapped as Hamilton pitted on lap thirty three. He would also take on new soft tyres returning in fifth. Team-mate Bottas was now fourth behind Verstappen. Lap thirty four and Vettel would pit from the lead seeing Raikkonen leading from Verstappen. Vettel would return in third also on the soft tyre. Raikkonen would pit the next lap taking on soft tyres seeing Verstappen now leading. Vettel was only just able to get past Raikkonen after the Finn's pit stop.

Raikkonen would make the following comment of Paul "What the **** is this Williams doing? If he can't see me there he should stay in the reporting." Paul would pit on lap thirty seven taking on new super soft tyres. He was now eighteenth behind Wehrlein. Sainz and Alonso had both pitted and weer now tenth and eleventh. Lap thirty nine and Verstappen continued to lead from Vettel, Raikkonen, Bottas, Hamilton and Vandoorne who had yet to pit. Alonso would get past Sainz for ninth going into Turn two. The gaps between the top four were all quite close. The Williams drivers were fifteenth and eighteenth on lap forty two. Raikkonen would complain that the team had put him under pressure from the following Mercedes cars and it was for no reason.
Verstappen would pit on lap forty four joined by Vandoorne. Verstappen would come back out in fifth running on the soft tyre. Vandoorne would drop to twelfth. Of the top ten only Hulkenberg and Palmer had yet to pit. Alonso and Sainz would get past Palmer followed by Perez. Hamilton would get past Bottas in what was a team move as Hamilton was quicker. Vettel was still leading from Raikkonen with Hamilton now third. Palmer would pit on lap forty eight taking on new soft tyres. Magnussen was now eleventh running ahead of Hulkenberg. Raikkonen was now in DRS range of team-mate Vettel. But it was looking like Hamilton was finding the going difficult to get past Raikkonen. For both Williams drivers it was a very lonely race for them running well behind.

Hamilton had not been able to get past the Ferrari in front. He would go quickest in sector on eon lap sixty one but would lose time in the next seeing the gap to Raikkonen grow again. Raikkonen had dropped back from Vettel while Hamilton was closer to Raikkonen. For Paul it would go wrong when he was told that there was a problem with the car and that it would have to be retired. Paul would pit seeing his race come to an end. It was confirmed that the issue was an oil leak. Hamilton had dropped away from Raikkonen as the race drew to a close. Verstappen was closing the gap to Bottas with four laps remaining. Alonso was sixth followed by Sainz, Perez, Ocon, and Vandoorne tenth.

In the final moments of the race Hamilton would let Bottas back into third but as the race came to an end it would be Vettel taking victory from Raikkonen, Bottas, Hamilton, Verstappen, Alonso, Sainz, Perez, Ocon and Vandoorne tenth. Hulkenberg had been forced to pit which would see Lance finish in fourteenth. For Williams the 2017 Hungarian GP was a race that the team would most likely try to forget. It was a weekend that saw a list of issues from a sick driver forcing the teams reserve driver, combined with a car that simply was not competitive at this track, and a retirement to make it an event where the team could not really take anything away from it.
pqs: qs: