Hungarian GP: Difficult qualifying for Williams Martini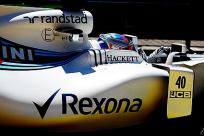 By Andrew Hooper
July 30 2017
Qualifying for the 2017 Hungarian GP was a difficult one for the Williams Martini team for a variety of reasons. Firstly the team went into qualifying with a car that was far from competitive and the results showed this. Secondly the fact that Felipe Massa could not compete due to illness and was replaced by reserve driver Paul Di Resta, who was given the difficult task of qualifying the car, made things even harder. Despite this Di Resta did a fantastic job in achieving the result he did. The results of qualifying would see Lance Stroll finish in 17th and Di Resta 19th. Sunday's race is going to be another difficult one for the Williams team.
Williams Martini Hungarian Grand Prix Qualifying
Team Summary:
The big news prior to qualifying was that Williams reserve driver Paul Di Resta would be replacing Felipe Massa who is unwell. It will be a difficult task for him given his lack of running in a 2017 car. But would he be able to finish ahead of team-mate Lance Stroll. The eighteen minute first period would commence and both Mercedes were out on the super soft tyre. Hamilton would set a 1m:17.905 to go quickest. Vettel would go ahead with a 1m:17.676 but Raikkonen would move ahead with a 1m:17.382. Vettel was second followed by Hamilton and Bottas. Hamilton would move up to second with a 1m:17.492. Vettel would again go quickest with a time of 1m:17.244. Verstappen was now fourth followed by Ricciardo, Bottas, Vandoorne, Hulkenberg, Alonso, and Palmer tenth.

Verstappen was now second from Raikkonen and Hamilton. The top nine drivers were all in their pits as the final four minutes started. As the session came to a close the top ten was Vettel, Verstappen, Raikkonen, Hamilton, Ricciardo, Bottas, Hulkenberg, Alonso, Vandoorne, and Palmer. Neither Williams car would make it past the first period. Another disappointing result from the Williams team. Even if Felipe had been in the car it was still going to be a struggle in an uncompetitive car.

In the second period it would be Vettel would set the first sub 1m:16s lap with a 1m:16.802. Hamilton was second followed by Raikkonen and Bottas. Ricciardo was fifth but this would become sixth as Verstappen went second. Vandoorne would move up to seventh but team-mate Alonso would move ahead. Hulkenberg was now sixth with five minutes remaining. In the final minute Hamilton would set a 1m:16.693 to go quickest from Vettel and Verstappen. Raikkonen was fourth followed by Bottas, Hulkenberg, Ricciardo, Alonso, Vandoorne, and Sainz tenth.

The final period would see the drivers complete their first runs with Vettel quickest with a 1m:16.276. Bottas was second and Ricciardo third. Hamilton had pitted aborting his first run while Raikkonen was now fourth followed by Hulkenberg, Alonso, Vandoorne, Hamilton but Verstappen would go up to third with a late lap. Hamilton and Sainz had yet to set a time. All ten cars would come out for their second runs and in Sainz's case his first run. Hamilton would complain about vibration coming from his tyres. Hamilton would move up to third while Bottas would close the gap to Vettel with a 1m:16.530 but remained second. Vettel would remain quickest but Raikkonen would go second with a 1m:16.444. Bottas was third followed by Hamilton, Verstappen, Ricciardo, Hulkenberg, Alonso, Vandoorne, and Sainz tenth.
Paul Di Resta:
Paul would come out very early in the period looking to get as much track time as possible. He was running on the super soft tyre for his first run. His first lap was a 1m:22.289 and after the first runs he was tenth. Paul would improve with a 1m:21.218 to now be thirteenth. He would continue to improve setting a 1m:21.075. Paul had dropped to seventeenth and would pit after a six lap run. In the pits he would drop to nineteenth. With just over five minutes remaining Paul would return on a new set of super soft tyres. Paul was now twentieth and would set a 1m:20.390 to be behind Wehrlein. On his final lap Paul would set a 1m:19.868 to be nineteenth just 0.7 behind his team-mate. The team would tell Paul that he did a fantastic job.
Lance Stroll:
Lance would follow his team-mate out also on the super soft tyre. Lance would set a 1m:19.964 to be seventh dropping to eighth. Lance would drop down the order but a 1m:19.467 would see him eighth. But he would drop to ninth behind Ocon. He would pit currently tenth with ten minutes left in the period. In the pits Lance would drop to fourteenth. Lance would also return to the track on a new set of super soft tyres. Lance would set a 1m:19.102 to be sixteenth. He would have a moment at Turn two running wide losing time. Lance would finish the period in seventeenth.
pqs: qs: