British GP: Single point for Williams Martini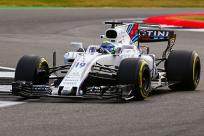 By Andrew Hooper
July 16 2017
Despite the hope that the team could repeat their Austrian GP race results the Williams Martini team would only secure a sinle point with Felipe Massa finishing in 10th. Team-mate Lance Stroll would finish in a distant 16th. Both drivers would start the race on the soft tyre and would make great race starts making up a few places running close to the top ten. But as the race progressed Lance would drop down the order while Felipe was always looking at a tenth place finish. Not the result that the team was hoping for with it been their home race.
British Grand Prix Race Review
In a television interview prior to the start of the British Grand Prix Felipe Massa would say: "Starting out of position. I hope we can do what we did in the last race." The Williams Martini drivers would line up fourteenth and fifteenth with Felipe ahead of team-mate Lance Stroll. On pole was Hamilton followed by Raikkonen, Vettel, Verstappen, Hulkenberg, Perez, Ocon, Vandoorne, Bottas, and Grosjean tenth. All of these drivers except Bottas would start the race on the super soft tyre. Bottas was on the soft tyre having split his race strategy. The Williams drivers were outside the top ten and as such could select the tyre that they would start on. Felipe and Lance would both select the soft tyre for the start of the race. Joining them on the soft would be Magnussen, and the two Sauber's.

The cars would move off on the parade lap but for Palmer his race would end with an issue before the start with a hydraulic issue. The rest of the field would come back and would form up. They would be sent around on another formation lap as Palmer walked away from his car. They would come back around and the red lights would go out and it would be Hamilton leading from Raikkonen and Verstappen. Felipe and Lance had moved up to eleventh and twelfth after great starts. Felipe would get past Grosjean for tenth. Sain and Kvyat would make contact with the pair coming together with Kvyat hitting the side of Sainz. Sainz would clip the rear of another car that of Magnussen as he spun.

The Safety Car would come out with Kvyat pitting coming out last. Felipe and Lance were still running in tenth and twelfth with four laps completed. At the front Hamilton was leading as the race restarted. Raikkonen was second followed by Verstappen, Vettel, Hulkenberg, Ocon, Bottas, Perez, Vandoorne, and Felipe tenth. Bottas would move up to sixth while Lance had briefly lost his twelfth to Ricciardo but Ricciardo would fall back having run wide. Bottas would continue to move forward passing Hulkenberg for fifth. Running last Kvyat would be given a drive through penalty for his returning to the track unsafely which he would take on lap eleven. Ricciardo had past Alonso and was closing the gap to Lance. He would pass Lance seeing the Williams dropping to thirteenth. Hamilton was leading Raikkonen with Verstappen having Vettel right behind him. Vettel would try to pass Verstappen but in a tough fight neither would go each other an inch seeing both drivers take to the run off areas.
Ricciardo would pass Grosjean for eleventh with Felipe ahead in tenth. Lance had dropped to thirteenth with sixteen laps completed. Bottas was closing the gap to Vettel in fourth. Ricciardo was closing in onto Felipe as Vettel pitted on lap twenty. He would take on the soft tyre returning in sixth. Verstappen would pit the next lap also taking on the soft tyre in what was a slow stop. As a result Vettel would pass Verstappen as the Red Bull came out of the pits. Ocon would pit but would have an issue coming back out way down in sixteenth. Ricciardo had passed Felipe with the pair ninth and tenth. Vettel would pass Hulkenberg who was running in fourth. Hamilton was still leading from Raikkonen and Bottas now third.

Lance would pit on lap twenty four taking on new super soft tyres coming back out in eighteenth after a slow pit stop. Ricciardo had passed Vandoorne for eighth. Perez would pit on lap twenty five joined by Perez. Raikkonen would pit on lap twenty six seeing Bottas move up to second and the Ferrari third. For Williams Felipe was running in ninth but this would become eighth. Hamilton would pit on lap twenty seven coming back out in the lead but with Bottas close behind. Felipe would also pit on the same lap coming back out in fourteenth. Hulkenberg had pitted dropping to ninth. Lance was able to pass Kvyat for seventeenth while Felipe had moved up to twelfth behind Ericsson who had yet to pit. But he would do so and Felipe would move up to eleventh.

Lap thirty two and the order was Hamilton, Bottas, Raikkonen, Vettel, Verstappen, Ricciardo, Hulkenberg, Magnussen, Ocon and Perez tenth. Felipe was eleventh and Lance fourteenth. Bottas and Ricciardo would pit on lap thirty four. Vettel would move up to third and Bottas fourth. Bottas was now on the super soft tyre. Ricciardo would come back out in tenth. Alonso would be told to pit to retire his car. Ricciardo would pass Perez for ninth and the following lap Ocon and Magnussen to move up to seventh. Felipe was closing in onto Perez in tenth. Magnussen would pit dropping to fourteenth and seeing Felipe move up to tenth and Lance thirteenth. Bottas would close onto Vettel and the pair would fight going into Stowe. Vettel was able to keep ahead but with Bottas close behind. Bottas would eventually get past Vettel for third and pull away from the Ferrari.

Lance had dropped to fifteenth while Felipe had continued to run close behind Perez still in tenth. Both Williams had been lapped. Bottas would start to close the gap to second placed Raikkonen. But Bottas was able to get past with Raikkonen having an issue with his left front tyre. Raikkonen would have to pit with the left front vibrating madly. Verstappen would also pit but Vettel would also have an issue with his left front as well. Raikkonen was able to move up to third and Verstappen fourth while Vettel would have to pit. He would return in sixth but while all this was going on Hamilton would take victory in the 2017 British Grand Prix. Bottas would be second and Raikkonen third. Verstappen was fourth followed by Ricciardo, Hulkenberg, Vettel, Ocon, Perez, and Felipe tenth. Lance would finish in sixteenth. So it was a single point result for the Williams team.
pqs: qs:
British GP: Single point for Williams Martini
Posted by: Williams F1 (IP Logged)
Date: 16/07/2017 14:45
What do you think? You can have your say by posting below.
If you do not already have an account
Click here to Register
.
Sorry, only registered users may post in this forum.