Austrian GP: Difficult qualifying for Williams Martini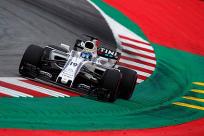 By Andrew Hooper
July 8 2017
Following the trend set in the earlier practice sessions where both Williams Martini drivers would struggle for pace this would be repeated in qualifying for the 2017 Austrian GP. The results of the session would see the Williams team only magaing 17th and 18th. Felipe Massa would finish just ahead of his team-mate Lance Stroll. Both drivers would complain about the balance of the car and their difficulty in getting the tyres to work. Sunday's race is going to be difficult not only due to the fact that they are starting from the rear of the grid but also due to the fact that the FW40 has lacked any real pace so far this weekend.
Williams Martini Austrian Grand Prix Qualifying
Team Summary:
With both cars finishing the final practice session well down the times qualifying for the 2017 Austrian Grand Prix was looking to be quite difficult for the Williams Martini team. Hamilton was to receive a five place grid penalty for a gearbox change. The opening eighteen minute period would get underway. of the cars coming out only the Ferrari's were on the super soft tyre all the others the ultra soft. The early quickset time was from Magnussen with a 1m:06.143, followed by Grosjean. Vettel was third on the super soft tyre. Raikkonen would go second on the super soft tyre followed by Grosjean and Vettel.

Vettel would go quickest with a 1m:05.585 with Ricciardo now second and Magnussen third. Ocon would move up to third. Bottas was also out on the super soft tyre. Magnussen would suffer left rear suspension failure seeing him pit. Hamilton was now fastest with a 1m:05.238 but his time was on the ultra soft tyre. Vettel was now second and Bottas now third. Verstappen and Ricciardo were fourth and fifth. Perez and Ocon were sixth and seventh. Grosjean would move up to sixth and Magnussen ninth. But Magnussen was out with damage to his car. Sainz would move up to third but Raikkonen would move up to second pushing the Torro Rosso down to fourth. Bottas was fifth followed by Verstappen Ricciardo, Grosjean, Perez, and Kvyat tenth. This was such an awful result for the Williams team.

The second period would see Bottas quickest from Vettel, and Hamilton but Hamilton had set his time on the supersoft tyre. Verstappen was fourth followed by Raikkonen, Ricciardo, Grosjean, Perez, Sainz, and Ocon in tenth. This would mean that Hamilton would start the race on the super soft tyre seeing Mercedes split their race strategies. The final period would see Bottas go quickest after his first run with Vettel second and Hamilton third, all on the ultra soft tyre. Raikkonen was fourth followed by Ricciardo and Verstappen. All cars would come out for their second runs but there would be a yellow flag as Grosjean's car would stop on the track at Turn three. No one could improve but while this was happening Verstappen would go off into the gravel but it would be Bottas on pole from Vettel and Raikkonen. Hamilton would finish third but will drop to eighth. the rest of the grid would be Ricciardo fourth followed by Verstappen, Grosjean, Perez, Hamilton, Ocon and Sainz.
Felipe Massa:
Felipe would take to the track with twelve minutes remaining also on the ultra soft tyre. Felipe would set a 1m:06.620 to be fifteenth. He would drop to sixteenth one place ahead of his team-mate. He was able to slightly improve with a 1m:06.534 to be fifteenth. Felipe would return to the track also on a new set of ultra soft tyres. Felipe was in seventeenth and this is where he would finish. Such a change of fortunes when you think of where Felipe qualified here last year. Felipe would say "Struggling a lot to make these tyres work". He also added that he had a crack in the rear wing flap which did not help.
Lance Stroll:
Lance would be the first Williams to take to the track running on the ultra soft tyre. Lance's first time was a 1m:09.847 to be tenth in what was a slow lap. He would drop to fourteenth as he improved with a 1m:06.923 but he was now seventeenth and he would pit. While in his pit Lance would drop to eighteenth and had come back out on another set of new ultra soft tyres. After three laps Lance had not improved as the period came to a close. He would finish in eighteenth despite setting a 1m:06.608. Lance would report that the balance of his car was off.
pqs: qs:
Austrian GP: Difficult qualifying for Williams Martini
Posted by: Williams F1 (IP Logged)
Date: 08/07/2017 15:04
What do you think? You can have your say by posting below.
If you do not already have an account
Click here to Register
.
Sorry, only registered users may post in this forum.